While I really enjoyed the first chapter of Telltale Game's The Walking Dead Season Two, things didn't really get click with me until I played part two, "A House Divided". I don't know if it just took me a little bit to get into the story, or if the second chapter really brought it into focus. Either way, I really loved "A House Divided". I had previously hoped that I would be able to play through the first season of the game before I moved onto the second chapter, but with the move and the broken leg, that just wasn't in the cards.
That's unfortunate, because I don't have the whole back story. Thankfully, the writing here is strong enough that I was able to pick up on most of the nuances by reading between the lines. Of course, that's only reminded me that I really need to go back and play the first season.
Preamble aside, "A House Divided" was an incredible experience, filled with intrigue, secrets, and a zombie attack or two to keep things interesting. We pick up right where we left off, with Clementine running away from zombies with whoever it is you chose at the end of episode one. I went with Pete, and things go downhill pretty quickly. I don't want to spoil anything, so I'll just leave at that.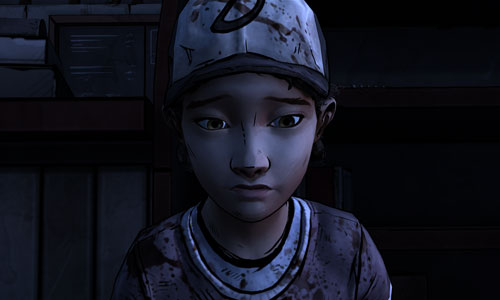 Eventually, we get back to the house, where the main group has broken up to search for you, Pete, and Nick. You're left at home with Sarah with orders to stay quiet and not let anyone in. You fail at this almost immediately, when a mysterious man (voiced by Michael Madsen!) comes knocking at the door and just lets himself in. It's an extremely tense scene that let's you start putting together a lot of background on the group you've found yourself in.
It quickly becomes apparent that this guy is scary and looking for your group, which means it's time to get out of Dodge, which leads us the the bulk of the episode, and some of the tensest scenes in the game to date. I really had a lot of fun with this part of the game, and am not going to describe the plot any further because you just need to get out there and play it.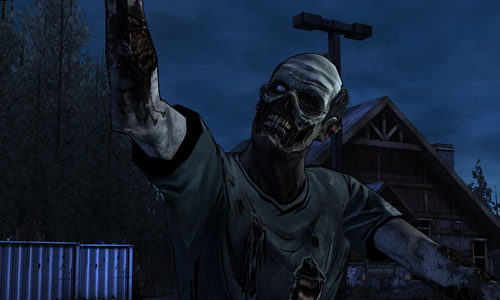 After playing The Walking Dead "A House Divided", I absolutely cannot wait for the next episode. The trailer at the end of this episode makes it look like a huge departure from what we've seen already, which should make things pretty darn interesting. Furthermore, there's been a ton of character development and intrigue, and I'm really excited to see where that goes as the story continues.
Grade: