Editor's note: this review will contain some spoilers. I will try to keep them to a minimum, but they're be there nonetheless. You've been warned.
Focus is an interesting thing. When strong shows focus on well-developed characters, they can reach incredible new heights. And when weaker shows try to do the same with less developed characters, it can elevate them or sink them. I've never considered AMC's The Walking Dead a strong show with good characters. It's a fun show, certainly, and growing strong the farther away we get from the show's first two seasons. That said, an entire episodes focused on Hershel was quite a gamble, but I'm pleased to say it's a gamble that paid off.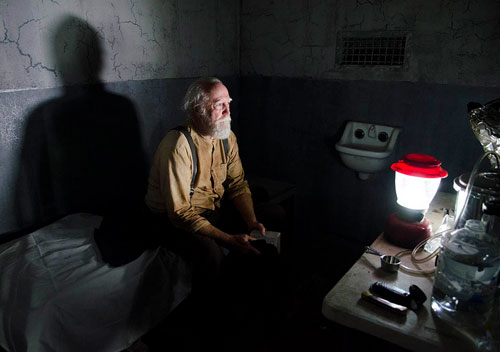 The infection has been building up to quite a threat this season. Daryl left with the lion's share of healthy people to try to bring back medicine, leaving only a handful of people at the prison to try to maintain order. Hershel decided that he needed to be with the sick people, despite being one of the only people in the group with medical knowledge. I'd argue that he's too valuable to risk, but I digress.
Hershel  is completely dedicated to caring for the sick, and a big part of that responsibility is keeping up their spirits. This means he needs to keep the grisly task of destroying the brains of the recently deceased to the sidelines. Other than tea, keeping people positive is really the only thing Hershel can do at this point, at least until the away team arrives back with the medicine.
Helping him, at least for a little while, is Sasha and Glenn, although the arduous work quickly takes its toll and both end up close to death for their troubles.
This all comes to a head when Hershel is left on his own, and can't keep tabs on the dying. After a couple red shirts reanimate, chaos erupts. Luckily, Hershel has a shotgun and a bit of ammo, but he's also got to worry about the sick people being threatened by the zombies. With a bit of manuevering and some timely help from Maggie, he's able to dispatch the zombies without too much collateral damage. This gives him enough time to dramatically save Glenn's life as the poor guy struggles for breath.
Meanwhile, the fence outside is in rough shape. Rick, Maggie, and (later) Carl to their best to buttress it, but it's too little, too late. With Maggie gone to help her father, Rick and Carl have to kill off a pretty sizable horde of zombies.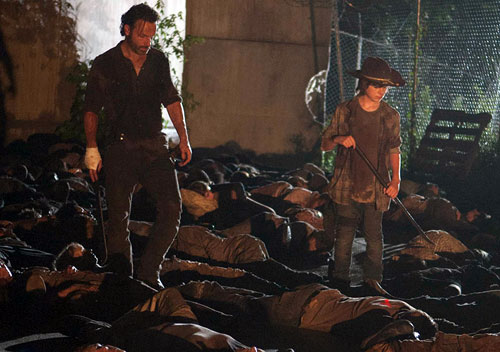 While this part of the show was a lot of fun, there were a few things about it that really annoyed me. First of all, those fences were incredible important to the survival of the group, and we've had loads of foreshadowing throughout the season that they were in need of maintenance. Despite this, all they did was occasionally kill off zombies at the fence until it was too late to do anything else.
And when Rick and Carl were left to defend the prison, what do they do? They run to laundry carts outside to their stash of guns and ammunition. Those weapons are often the deciding factor between life and death on The Walking Dead, which makes them absolutely precious. I cannot for the life of me imagine why anyone would leave all their guns outside in the elements when they might need them at a moment's notice. I suppose the argument is that they have multiple stashes around so they can quickly access them, but this just seemed stupid to me.
At the episode's conclusion, Daryl and company arrive back in camp with the meds. Daryl, naturally, looks for Carol, to which Hershel responds that she's okay, but that he needs to talk to Rick. This sets up quite the conflict in the next episode, which should be interesting.
Despite a few missteps, this was one of the stronger episodes of the season. Hershel is far from my favorite character, but the focus on him this week worked really well. Also, the song they played in the background at the end of the episode was super cool.
Grade: