There's a lot of zombie stuff out there, and most of it is crap. People like to jump on bandwagons and produce quick tie-ins rather than investing love and effort into their creations. Luckily for you, I'm here to help separate the wheat from the chaff. Check back every Thursday, when I'm going to share the coolest zombie-related creation I can find out there on the web.
The Zombie Creation:
This week's creation, "МЕТРО: Ретурн то сурфаце" by Angelo_S, is based on Metro 2033, a post-apocalyptic novel and game in which survivors are living in the Moscow subway after a nuclear war. I haven't read or played either, but this scene is certainly very striking.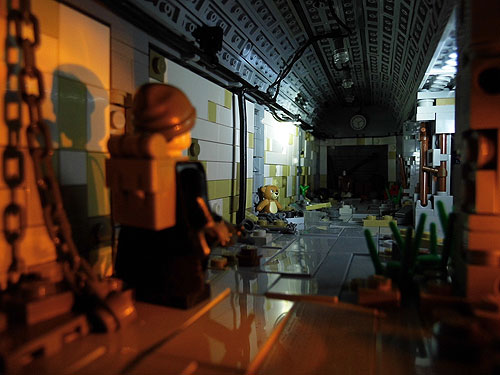 So What's Going On?
Like I said, I haven't read the novel, so I had to check out Wikipedia to get a better sense of Metro's world, and now I totally want to read the book.
Essentially, we have a survivor in a metro station, trying to outlive the radioactive wasteland of the surface world. This creation is an absolutely amazing iteration of that. It's gloomy and monochrome, with really nice lighting. But the character in the scene is lookout forward, and the world – crappy as it may be – is stretching out before him with potential.
I think that's pretty damn cool.
Let's Talk About the Zombies
There's no zombies in Metro, at least as far as I can tell. That's okay though, because from the sounds of it, people in that world have enough awful things to deal with. They really don't need zombies on top of that.
Or do they?
Have you seen a great zombie creation out on the web? Are you working on the next great zombie MOC as we speak? Well you had better let us know right away, otherwise we'll never be able to include it here.