So the movie Warm Bodies. I will start with this – If you're a diehard zombie movie fan you have my permission to leave. This movie isn't for you. It's Twilight with zombies, and not the zombies we know and love. However, if the misses is pestering you to watch a chick-flick with her, you could do a lot worse than this amusing little concept.
Warm Bodies is clearly trying to ride on the back of the vampire romance genre, but substitutes vampires with the walking dead and mixes in a bit of comedy for good measure.
Vampire love (or necrophilia as I call it) kind of works, I'm guessing it's because they don't really look dead. With an actual dead man the idea just seems a little more difficult to stomach.
Having a zombie as the lead character makes for some interesting viewing, and you really get an idea of the conflict a flesh eating former human has to go through.  Other than this concept, the movie doesn't really break from the usual rom-com setup, and gets pretty predictable rather quickly.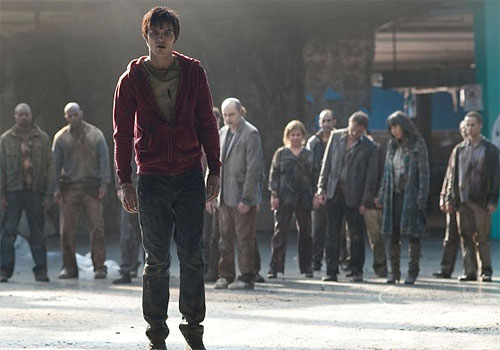 Its only saving grace for me was the opening sequence, which was fantastic.
If you want a switch your brain off style movie, or looking to convert a zombie hater to the genre this movie is a good start, otherwise I'd probably give it a miss.
Grade: