And just like that, the third season of AMC's The Walking Dead comes to an end. It was a pretty heavy-duty episode, with a lot of moving parts. Some things worked well, some disappointed, and a couple are left in the wind, waiting for season four.
Let's start with one of the things I liked least about the episode: Andrea and Milton. In the show's cold open, the Governor beats on Milton for a moment, then drags him into Andrea's holding/torture cell, and demands that Milton kill her. Instead, Milton tries to take out the Governor and gets stabbed in the gut for his trouble. The Governor leaves him to zombify and kill Andrea, echoing Merle's torture of Glenn at the beginning of the season.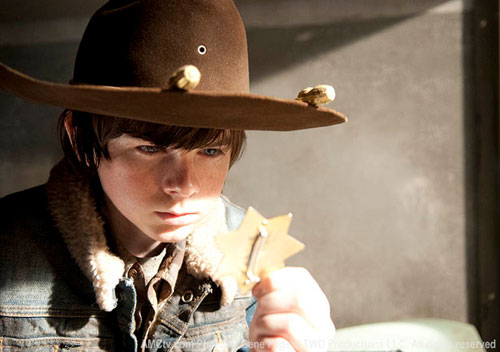 So far, so good, right? Things go downhill pretty quick after that. Milton isn't quite dead, and he tells Andrea that he dropped some pliers on the ground that she can use to escape before he turns into a zombie and eats her face. Then we get a whole episode of her wasting time and the show trying to sell it as tension. Let's be very clear about this: Andrea could have survived very easily, all she had to do is either shut up, or work while she talked. Instead, she droned on and one as the clock slowly peeled off the seconds. In the end, she died because she was an idiot (and had incredibly poor dexterity in her feet).
Add this to the fact that Andrea was already the show's least sympathetic character (somewhere below the zombies, Shane, and the Governor), and whatever stakes The Walking Dead was trying to milk out of this predicament just didn't work.
Luckily, that plot was only about a third of an otherwise very solid season finale. The big movement in the story involved the Governor's attack on the prison, and it was pretty awesome. After a fake-out at the beginning of the show, which I'm guessing fooled no one, the Governor rolls in with all his army, guns blazing. They blow up a couple of watch towers, shoot a bunch of zombies, and generally have a good time of it. When it appears that the prison is abandoned, they decided to start crawling through the darkened bowels of the place, to their peril.
I really liked how this segment worked. We start off with the governor's people looking unstoppable. They roll in with tons of people and firepower, but choose to abandon these advantages and venture inside. Once there, labyrinthine corridors, low light, and lots of creepiness combine to freak everyone out, just in time for Rick to spring his trap. Between the zombies and the defenders, the Governor's forces are completely routed.
And then he gets even crazier than usual.
Furious, the Governor orders his piecemeal army back to the prison, and when they balk, he simply kills all but Martinez and that other guy whose name I don't know. It's shocking and brutal, and there is only one survivor. In a few minutes, the Governor loses pretty much every advantage he has. And when Rick, Daryl, and Michonne press the counter-attack, they manage to get the remains of Woodbury integrated into a single group at the prison. It's not the big showdown I expected, but I'm quite happy with the direction it took.
In the end, the Governor is still out there, and probably more dangerous than ever. I'm not terribly surprised that this wasn't resolved, but I'm also not completely satisfied with where it leaves the Woodbury arc either. Regardless, I'm planning to go into season four with an open mind.
That leaves the last plot point, and the one I liked the most: Carl shooting the scared kid from Woodbury. One thing that I really liked in the comics is how Carl developed from an everyday kid into a pretty scary little survivor, willing and capable of doing pretty much anything to stay alive. This came through brilliantly in "Welcome to the Tombs".
What I really liked about the setup is that I sort of agreed with Carl. They were being attacked, and this kid runs toward them with a shotgun. The kid makes like he wants to surrender and hand over his gun, but why doesn't he just drop it? Why is he holding it in such a way that you think maybe he's going to try to get one last shot off?
I was yelling for Carl to shoot, and really didn't expect him to. His decision, cold rationalization, and Hershel's horror over the whole thing combines to make the episode's most interesting moment by far. I'm really eager to see how this shakes out next season.
And that wraps up season three of AMC's The Walking Dead. Make sure to check back next week, where me and some of the other writers at Bricks of the Dead are going to have a round-table discussion of the season as a whole and maybe a few other related topics.
Grade: