Set #: 9470
Pieces: 227
MSRP: $19.99
I was a little hesitant about Shelob Attacks, because most of the brick-built monsters I've seen have been a little uninspiring. But Shelob looked pretty good, I wanted a Gollum figure, and the piece to price ration was solid, especially considering this was a licensed set, so I took the plunge. I was happily surprised.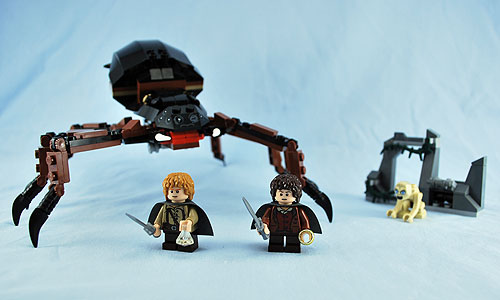 The Parts
Surprisingly, this set did not come in numbered bags. Since there are quite a few parts, I've broken them out into like parts. For the most part, anyway. As you'll see, I missed a couple.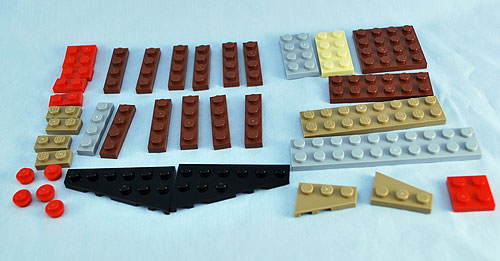 First up are the plates. Nothing too exciting here, although it's nice to see some dark tan, and brown is always a useful color.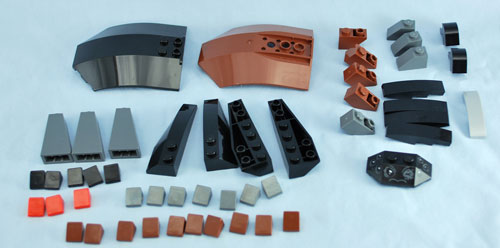 Then we have our various slope pieces. Tons of cheese slopes and other useful pieces. There's also Shelob's face, which is printed and looks quite cool. I'm not quite sure what I'd use it for outside a giant spider, but I'm sure someone will come up with a brilliant use for it.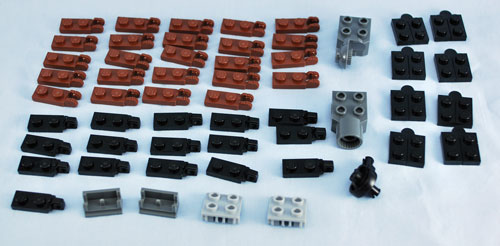 Next up: hinges, and this set has a load of them.If you're in the need for hinges, this is a great one to pick up, especially considering the price point.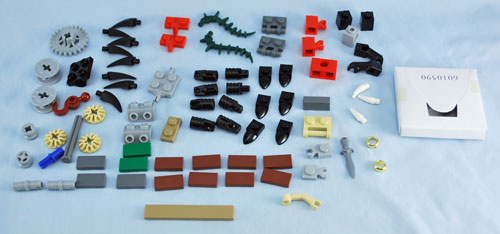 And then there's everything else. As you can see, I missed a plate and a few hinge pieces, so they landed here. That white cardboard envelope has the string for Shelob's webbing.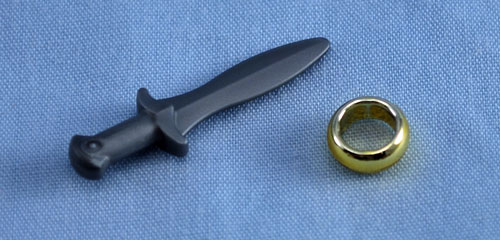 And here's a close up of the new sword and ring, both of which are fantastic.
The Minifigs
The minifigs in Shelob Attacks are very solid. We get another Frodo, but he's different from the Gandalf Arrives Frodo since he's decked out for travel. He also sports a "bitten by a giant spider/stabbed by a Nazgul" facial expression, which I'm likely going to try using as a zombie.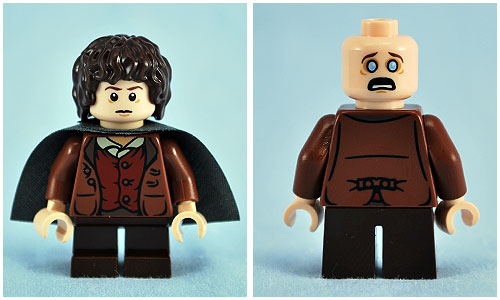 Next up is Sam, and if you want Sam to build out your fellowship, this is the only place to get him. I really like this figure. The torso is fantastic, and will fit into a variety of historical themes. The back printing on all the figures in this line is a really nice touch, and I like the lighter colored hobbit hair he sports. It's not shown in the photo, but Sam comes with a gladius (I love those things) and a white gem to act as the Phial of Galadriel.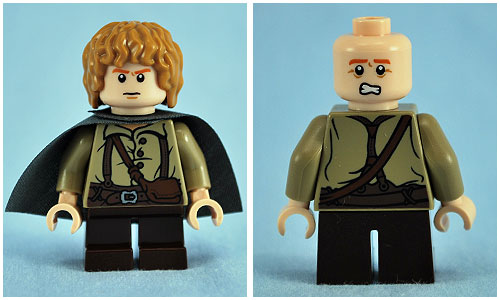 Finally, we have Gollum, who is also exclusive to this set. This is an entirely new mold, featuring slightly different arms than I'm used to seeing. the printing is great and his posture is absolutely perfect. Unfortunately, the only part of the figure that is articulated are the arms, which is disappointing. I really wish LEGO® had been able to use a standard minifig head connection here.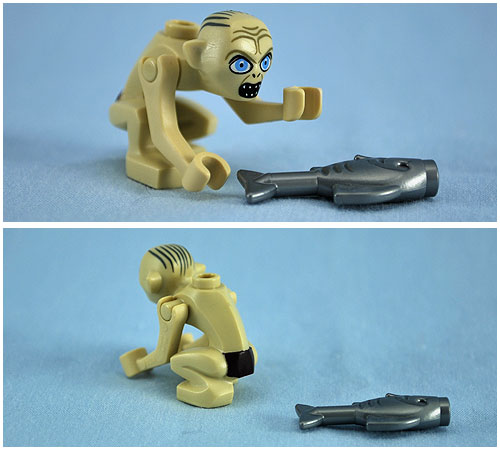 The Build
The build is divided into two parts: the rocky cliff thing, and the giant spider.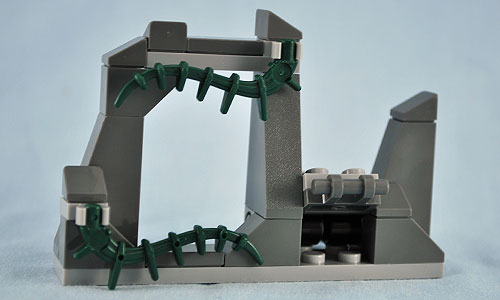 The rockface is a pretty decent bit of scenery, featuring some useful slopes and those bits of seaweed that make for great foliage. Unfortunately, they added a completely unnecessary play feature, which detracts from the look they were going for. That feature? A Gollum catapult.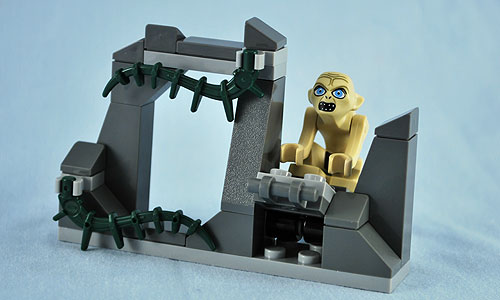 The spider itself is pretty darn impressive. Each of the eight legs is individually built (no cheating here), and features four points of articulation. Shelob's carapieces is also articulated, as are her face and mandibles, giving you loads of options for posing her. She also looks very creepy.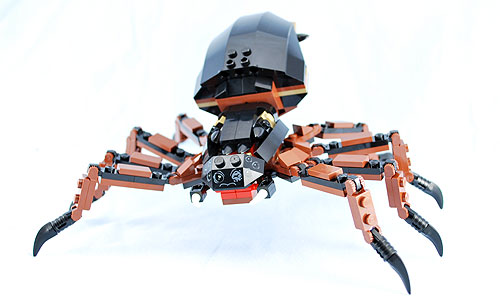 Shelob, of course, includes a play feature, but at least this one sort of makes sense. She comes with a hook and some string you can use to tie Frodo (or whoever else, Scrimshaw perhaps?) up in the webbing. I don't even mind the hook so much, since it almost looks like a stinger.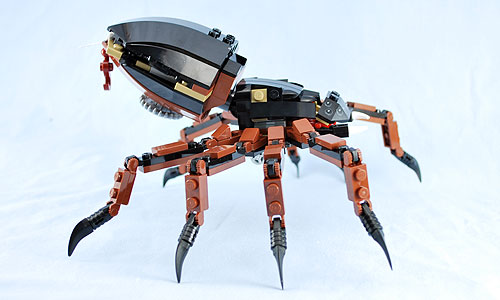 And here are the extra bits. That's right, you get an extra sword and two extra rings. Not bad!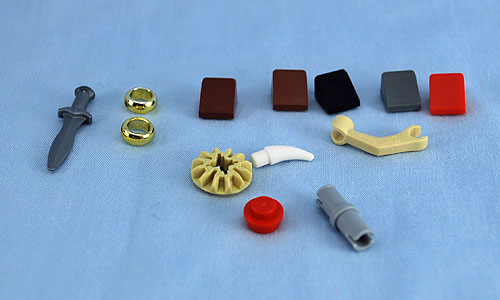 The Verdict
I ended up liking Shelob Attacks a heck of a lot more than I thought I would. It boasts some great minifigures, fantastic parts, and a really well build giant spider. Color me impressed.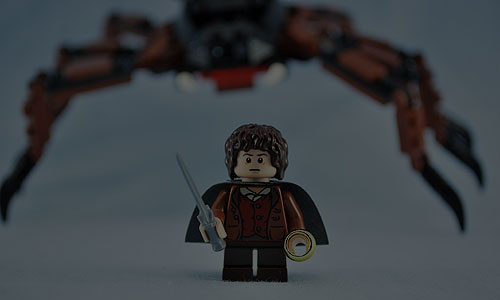 Grade:

Buy Shelob Attacks
today