We're going to go through the contents of my patrol bag ("bug-out bag", "get-out-of-Dodge bag", etc.) first aid kit. I built this kit because many so-called "first aid kits" are little more than glorified boxes of Band-Aids, with little in the way of treating the kinds of injuries or ailments one might see seventy-two hours into an emergency situation. I did quite a bit of research, and put together what I consider the bare minimum for a patrol bag first aid kit.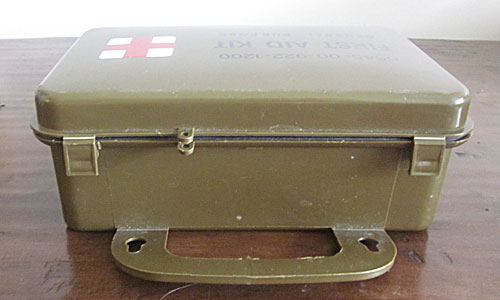 When you put together your own kit, consider the types of injuries you expect to treat. Are you preparing for evacuating from a hurricane? Are you hunkering down for a blizzard or ice storm? You have likely only built your kit to last about three days, the same as your bug-out bag. What happens on the seventy-third hour? You had better be where you were going and resupplied, or be limber enough to kiss your own ass goodbye. That's the way it is in the survival game. The situation is unforgiving; and while willingness is a state of mind readiness is a matter of fact. There are no "do-overs" in a worst-case scenario. This is not a comic book or a video game. If you die you don't "re-spawn" at the last checkpoint.
There are the usual caveats: first, this is only my patrol bag kit. I have a much more extensive kit that at home, and in the car when I travel. Second, this kit is not to be confused with the blowout kit that I carry in a MOLLE pouch on my chest rig (that I will cover in a later tutorial). That kit is for me if someone shoots me. It is not for anyone else.
The first aid kit, by contrast, is for treating me or other people. I do not mean it to be a catchall end of the world kit. It's only to make life easier (or prolong it) until we can get a doc to take over. It's still mostly a "boo boo kit" or "snivel kit" and not really appropriate for dealing with trauma or serious illness. It's just to keep one comfortable when moving to a more suitable destination, whether rally point, bug-out location, or retreat. Finally, yes, all of these things do fit in the box, snugly, yes, but without bending or lifting the lid.
Containing the First Aid Kit
First is the box. I found it stuffed with mostly Band-Aids and other near-useless crap and sold as a first aid kit. It's a sturdy box, with a gasket seal, and says it's made in the States (always a plus, in my book). I don't know how waterproof it really is, and I am not that anxious to find out. I've seen these advertised online, with the same contents that mine came with, for about twenty Federal Reserve Notes. I found mine for twelve at a gun show.
I stripped out the contents, chucked most of it, and kept the box. I really like it. I have picked up a few more; and I will gladly take more if I can find them at that price to make duplicate kits. You don't have to use a box like this, although I do recommend one with a gasket lid. Any appropriately sized pencil box will likely be sufficient. If the waterproof box seems like overkill it is because I think soggy, ruined first aid kits are no fun.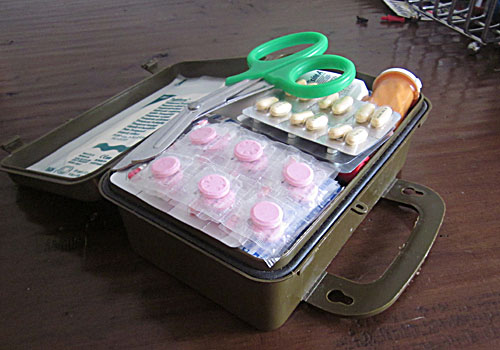 First Aid Kit Contents
1.) One pair of EMT shears.
2.) Twelve generic Benadryl (diphenhydramine) capsules
3.) Two 4 in. x 41/2 in. Tegaderm occlusive dressings
4.) One bottle Visine (Tetrahydrozoline Ophthalmic) with allergy relief
5.) Twelve Tylenol Cold tablets
6.) One bottle of ibuprofen
7.) Twelve generic bismuth subsalicylate (Pepto-Bismol) tablets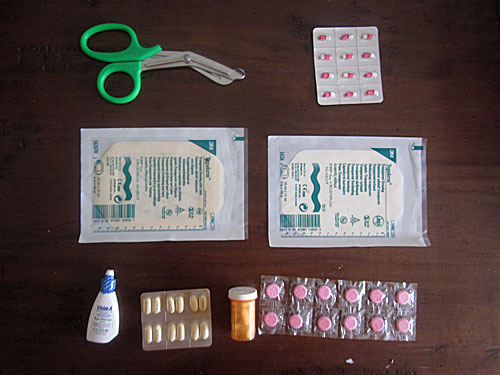 8.) Twelve loperamide tablets (Diamode, Diar-Aid, Imodium, Imotil, K-Pek II, Kaopectate II, Imodium A-D, Maalox Anti-Diarrheal, etc.)
9.) Five packets (two tablets each) electrolyte replacement tablets
10.) One pair stainless steel fine-tipped tweezers
11.) Two pair Nitrile gloves
12.) One tube Krazy Glue
13.) One tube Blistex
14.) One Mylar space blanket
15.) One roll athletic tape*
15.) One small bottle of hand sanitizer
16.) Five butterfly bandages
17.) Assorted adhesive bandages
18.) One 1 ounce tube Neosporin (get the smallest tube you can find- a little goes a long way)
19.) One 4.5 in. x 3 yard gauze roll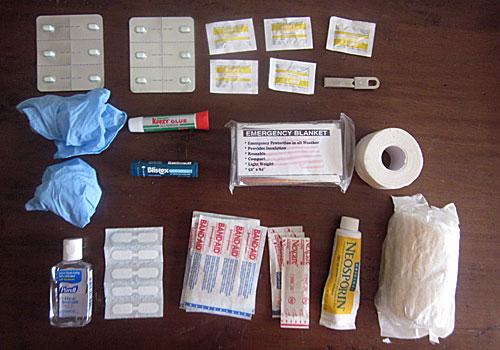 20.) Two eye pads
21.) Four 4 in. x 4 in. dressings
22.) Two hemostatic dressings
23.) One Swedish military surplus pressure dressing (these are the smallest I have found)
24.) One 8-inch piece of Moleskin
25.) One elastic bandage*
* Be aware of any latex allergies you or your party may have before using these. Latex-free options are an alternative.
There you have it, one seventy-two hour first-aid kit, for bug-out bag or patrol pack, and suitable for treating most minor injuries in the field. About the only thing I would change at this point, I think, would be if I could find a roll of duct tape the same size as the athletic tape. I would want a roll, though, and not tape rewrapped around a pencil, cardboard, etc. I think a roll of tape is easier to use with wet, dirty, or shaky hands.
I also have four medical-related preps to my BOB, but outside the already strained kit: a bar of Phisoderm soap, a four ounce bottle of Betadine, a SAM-type splint, and four more pairs of Nitrile gloves in a Ziploc freezer bag. I am much more concerned lately with taking care not only of myself, but others in a disaster situation.