Something has happen to Apryl that has drastically changed her life.  Her great aunt Lillian has died and left her some property in London.  The property includes an apartment inside a building called Barrington House, all the belongings inside that apartment, plus a storage room in the basement.
Apryl is an American and has never been to London so she was quite shocked to learn the apartment she now owned in a very expensive and wealthy part of London. Half of this inheritance was also going to go to her mother and but Apryl was going to handle selling off the apartment and the antiques inside. Being in her early 20's this was going to be quite an adventure for her and she looked forward to the task. Especially since she had never heard of her great aunt Lillian. In fact her mother had forgotten Lillian existed. Lillian had married a British WWII pilot after the war and had basically disappeared from the family.
Some doors are better left closed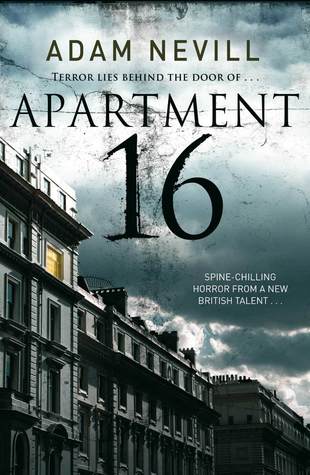 Apryl isn't a materialistic girl but is certainly thrilled at the volume of wealth that will soon be coming her way. She is a good person so she feels guilty at benefiting at someone's demise but she is determined to learn everything she can about her Aunt while handling her estate.
Apryl soon learns from the Barrington House staff that her aunt was far from mentally healthy. She seemed to suffer from a form of paranoid psychosis and was recluse within the building. And she had been so since the 40's. In fact, Apryl learns that every tenant who lived there with her aunt has never left.
Her curiosity mounts as Apryl uncovers her aunt's journals and the buildings involvement with a man named Felix Hessen who used to live in Apartment 16 that has never been reoccupied.
 Is this book a ghost story or is it a supernatural horror story? Who knows. Everyone has their own idea who to define such things so I will just say it is somewhere between those two labels. Whenever you write a book like this where you want to inject fear into the psyche of the reader you have to be adept at scene setting or you'll fail as an author. I have never read anything by Adam Nevill before Apartment 16 but I learned right away that Nevill is a master at setting an atmosphere. It's not as important to describe the way something looks as much as it is to convey a feeling. As the story began to unravel I had absolutely no problem feeling the fear and anxiety that Apryl or any of the other characters experienced.
The old creepy building is far from an original idea but Nevill created fresh characters along with an interesting story line that made this story still new to me. And I have been on a "Haunted House" book marathon for awhile now.
At 449 pages Neville ran a huge risk on burning people out which such a long story set in fear but those 449 pages went by incredibly fast. However, I do think the book length backfired a bit. There was a story line within the book I felt far too much time was spent on. This could have been evened out by spending a bit more time on some other threads but that wasn't the case. I hate to be so vague but out of respect for spoilers I will just have to leave it at that.
Grade: