The Rising Horde is the third installment of the zombie apocalypse story line by Stephen Knight. But no worries as Mr. Knight has treated this story right and every book is a stand alone to its peers.
The third installment takes place roughly ten days after the beginning of book one. As the world continues to implode under the futile attempts to quarantine the undead, The United States begins its battle. Due to its natural borders North America one of the last continents in the world to face the blunt of the hordes but its time has run out.
As in book one, the powers that be are throwing all the military resources at attempting to contain further advancement of the undead hordes and medical technology to work on vaccines. The hordes multiple and move faster than can be dealt with so every attempt fails before it can even get started.
Due to its remote location, sophisticated equipment, competent staff and advanced equipment, a facility in Texas has been chosen to be the location to receive every available resource, possible indefinitely. Walls would need to be built, trenches dug and towers built as fast as possible to protect the scientists inside as they work to trying to save humanity.
It only took the world dying but we finally inter-agency and inter-branch cooperation working towards one goal of survival. From the Army Corps of Engineers to NAVY SEALS the best of every branch will be working seamlessly together. Every bullet possible will be shipped in, even the BlackHawks that will be providing air support will be filled floor to ceiling with crates. Standard government and civilian barriers are now gone. Everything available has to go towards finding this cure.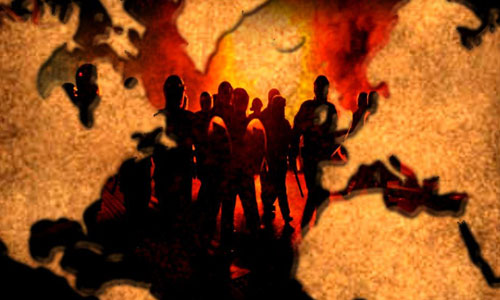 Its that a military base is needing to be built so much as a custom made fortress to surround the entire facility. This needs to be large enough to house personnel and all supporting aircraft. And as it becomes apparent during construction that every swarm coming from Mexico and the Eastern seaboard is going to cross paths over this location time is running out fast. As military activity picks up and the remaining news agencies begin reporting on the swarms movements the civilians in the local towns begin eying this fortress as protection. The only problem is that as stated before, every resource and effort is being made to protect the scientists inside and space inside the fortress has filled up and not everyone shares the heartless idea of abandoning them.
This Rising Horde isn't a traditional novel as this massive beast weighs in at around *750 pages total. In fact the decision was made to initially split that 750 page book into two volumes that will be released the same day on May 7th (possibly May 15th as it is still going through final edits)
I have to preface this by saying I really don't enjoy military novels. I never have. I get lost in the endless acronyms, the never ending action gets tedious and typically I think that in novels if the answer is the military it's a pretty boring question. I have tried to get into Tom Clancy but forced my way to the end each time, historical fiction is a great idea but didn't spark much interest either. Its simply a matter of taste as I prefer character based stories and seeing the personalities come alive.
So how did The Rising Horde fair since its so heavily military based? Very well. In fact I absolutely loved it. As busy as I was I devoured this book in one week. In fact even with the ongoing action that never stopped I never grew tired of this story.
I normally avoid comparing books but in this case it's fitting. To date The Rising Horde is the most complete zombie story I have ever read. Everything you could ever want in a zombie novel is found in The Rising Horde. I give The Rising Horde an edge over World War Z and Day By Day Armageddon as a completely satisfying story. That sound like a exaggeration but why can't a book topple those two? The Zombie genre is ever growing and more talented writers are throwing in their talents in increasing numbers.
The Rising Horde is a little light in the character department but its not lacking. Day By Day Armageddon is incredible but let's face it, the main character is pretty dry.
The Rising Horde only covers what happens in North America and not the world like World War Z but I still feel like it's the more complete story. The Rising Horde shows us everything from military awareness of the problem, first responder failings, traditional military failings to Interbranch accumulation as their backs are against the wall. And lists, The Rising Horde has our beloved zombie preparation lists but on a military scale involving everything special forces teams desire across every branch. Sure World War Z does this but I like the way Horde did it better as its seamless along one story line that shows some of the soldiers that are along the way from the beginning of this problem to the end. World War Z is a spanning story and brilliant in every aspect but its not a story line so much as a cohesive collection of stories.
Nit picking with my comparisons? Yes I am but I am comparing the cream of the crop here so it's needed. The Rising Horde isn't the perfect book so I don't mean to make it seem like it. It's simply one of the best in this genre. It's a little light on the character side as I would have like to see more time spent on the civilians in the surrounding cities but it's not lacking.
Stephen Knight is a new author to this zombie genre and still relatively unknown since he is self published and his advertising amounts to a blog. I think at some point he will be as revered as Maberry, Bourne and Brooks. Luckily he is still unknown enough to answer feel like answering my emails isn't a complete waste of time so we will have an interview coming up with him.
Grade:

*I read an early release copy pre-editing so the page length will likely change.