Carnage Road is a short but blistering fast paced novella that features two bikers named Walker and Boone traveling America in its final days.
Walker and Boone were motorcycle gang members in Buffalo NY surviving in their gangs hideout as their numbers slowly dwindled. While on a supply run they stumble into a zombie nest where they make enough noise trying to make it back to their compound that they draw the attention of rouge police force. Under attack, the compound receives enough damage at the front gate that that safety is no longer possible.
Deciding to leave once the initial attack is over, Walker and Boone hop onto their motorcycles and decide to trek across the US all the way to California since Boone – of all things – decides he wants to see Hollywood. Realizing that this goal is a bit ludicrous but with no better alternative Walker agrees and their new journey begins.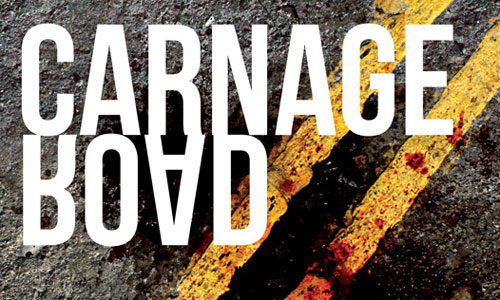 They know full well that they likely won't make it and that there is no recovery to the world. This isn't a story of heroics as they aren't trying to save anyone, not even themselves. Now that doesn't mean they have a death-wish or are depressed and want to die, far from it. They simply are at peace with their likely fate and try to get as much out of their remaining life as they can. Yeah this book really is this dark and gloomy but is sprinkled with enough demented humor to have its light-hearted moments giving you a momentary breather.
Along their journey they become prisoners in a cultist camp managing to escape but never finding true safety as the hoards of undead that are the new citizens of the world are relentless.  They do eventually make it to Hollywood but as to not give anything away next they decide to see a bit more of America and head to Texas.
After about a quarter way into this book I noticed two things. First I really like this book and second it read a lot like a book adaptation of a movie. It just had to feel of an action movie and even was lightly laced with a bit of cheesy action dialogue like the kind found in Die Hard.  Now don't get me wrong, that is neither a complaint or backhanded compliment as I love Die Hard and its occasional over the top dialogue. Taking a serious movie or book and adding in comedy elements is normally a guaranteed way to ruin a story but worked very well in Carnage Road. As I always do when I like a book I look up the author to see what else they have done and it turns out the author, Greg Lamberson, is an independent filmmaker which obviously explains the movie feel to this story. I even asked Greg Lamberson if he intended this to eventually be for a movie and he said "Most of my original books are based on screenplays I wrote; their sequels are not. Carnage Road is the exception: it was never meant to be a film." Its a shame because as a great book I think it is, it would equally be a great movie.
This book has a lot of heart to it and even though Walker and Boone are the anti-hero type they people who you will care for. Bloody, violent and this is a fresh unique story adding another impressive title to Print is Dead's new genre line of books. The only area I thought the book was lacking was a clear sense of time of how long this journey took from coast to coast and down to Texas. However I will point out I got a very early draft of this book and that could be an element that is added in between that draft and the books official release in April 2012.
Grade: 

Carnage Road will be available in April 2012 by Print is Dead