I always love it when a show's cold open is a scene from the finale, and then we spend the rest of the episode getting to that point. Structurally, I think it makes things pretty damn interesting, especially when we really want to see the end results of the tease. This week's Walking Dead manages this trick quick well, but there are some issues with the episode.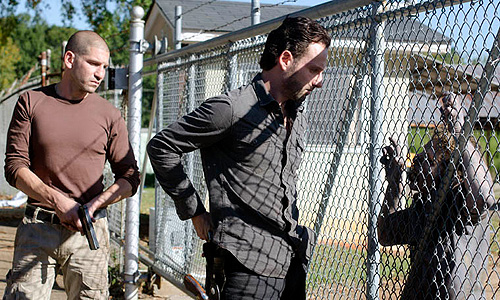 Let's start with the biggest issue for me; one that really took me out of the episode. No, not the fact that the events of tonight's episode didn't seem to really matter, or the fact that it may have been a lot of wheel spinning despite loads of zombies. No, my biggest issue with 18 Miles Out is that the producers of The Walking Dead seem to think that the human skull is made out of something with the strength of balsa wood. While I really like that the characters have finally realized that ammunition is a finite resource, and that they should probably preserve it, it's downright idiotic to think that you're going to drive a three-inch folding knife through someone's forehead.
When Rick first introduced the idea of taking out the zeds with knives, I was pretty excited. I always love when characters in zombie stories are stuck using improvised, hand-to-hand weapons versus firearms. It's dangerous and visceral, and every fight feels like its had the stakes raised. I thought that, in order to off  a zombie with a relatively small knife, these guys were going to have to go for eye sockets, or maybe the temples. But no, the producers of The Walking Dead apparently think driving a knife through a human skull would be a relatively easy affair.
Maybe that's just me being nit-picky, but it really bothered me.
Luckily, 18 Miles Out packed enough action to help detract from its weaknesses. The episode begins with Rick and Shane driving Randall – the kid who impaled his leg on a fence post – eighteen miles out of the camp to let him go. Shane thinks this is idiotic, and that Rick is simply trying to maintain an outmoded and dangerous level of civilization, but it seems like the two characters have let this argument lie, at least for the time being. Instead, they finally dive into the Shane/Lori issue that's been bubbling under the surface since the second episode of the series.
It's an interesting moment for the show. Rick talks, and Shane listens. There's little back and forth, at least at this point. Shane gets to say his piece at the end, and we're left with a flimsy sense of finality. The fight is over, for now anyway.
When the group finds a place to dump Randall, things look suspicious. We see the remains of a survivors' camp. There's trash from supplies everywhere, burned corpses, and even a car seat inside the school bus, which appears to be where the survivors were living. Shane and Rick dump Randal here, and he screams and pleads, finally letting slip that he knows Maggie, and by extension the farm.
The fight that was completely ignored at the beginning comes to a head, and soon to blows, as Rick and Shane beat the tar out of each other while Shane tries to kill Randal and Rick tries to stop him. Their fight, of course, unleashes a horde of zombies and then the fight is really on. This culminated with Shane trapped and unarmed in a school bus, and Rick and Randal walking away. A ballsier show would have ended the episode there, letting us all speculate for a week about whether they'd really left Shane. But of course they're riding in to the rescue in the next scene. Way to spoil the tension, show.
Back in the camp, we get a very limited amount of characters. Only Lori, Maggie, Andrea, and Beth. Beth, we discover, wants to kill herself, and Lori and Maggie are trying to stop her. Andrea takes a different approach: leaving her along to make her own call. The result is Beth slashing on wrist and then immediately realizing that she wasn't quite so invested in killing herself as she may have thought.
The real drama isn't with Beth, of course, but rather with Andrea and her place in the community. Andrea wants to focus only on survival, choosing to stand watch rather than cook and clean like the rest of the woman. This, naturally, rubs Lori (and we presume others) the wrong way. The two have a heated argument, during which Andrea blasts Lori for not having sacrificed anything. Oh, and for banging Shane on the side.
I found the structure of Rick versus Shane and Lori versus Andrea just a little too convenient, but I'm ultimately curious where this is all headed. I wish the show was better about writing female characters, but I'll accept it for what it is, and I can believe there would be a bit of ill will between Andrea and the other women.
18 Miles Out packed in a fair amount of action, but in the end not a whole lot happened. Conflicts weren't resolved, but they didn't really feel built upon either. Thankfully, there was enough zombie mayhem to help offset this silliness.
Grade: C
Other Notes: Why is it in movies and TV shows that, whenever anyone needs blood for something, they always cut their hands and fingers? I know they tend to bleed a lot, but you also kind of need your hands for shit. Why injure them?