Believe it or not, Bricks of the Dead has been rolling for two years as of Saturday, February 18th. Pretty impressive, no? Let's look at some facts and figures.
Content Statistics
Since launching, we've done:
22 Zombie game features and write-ups
6 interviews (with more on the way)
64 reviews
95 Zombie creations of the week
30 assorted blog posts
And 224 comics, but let's break those down as well:

195 regular episodes of Bricks of the Dead
22 Bonus Feature episodes
And 7 Guest Strips (which were just awesome, by the way)
And through all of that, you guys have contributed over 11,000 comments. That's a hell of a lot of discussion.
Traffic Statistics
Since launching the site I've had:
141,661 visits to the site (65,265 of which were from unique users)
690,758 page views – well over the half a million mark and climbing fast!
That's an average of just under 1,000 page views per day/almost 29,000 per month. Awesome.
But where's all that traffic coming from? So glad you asked.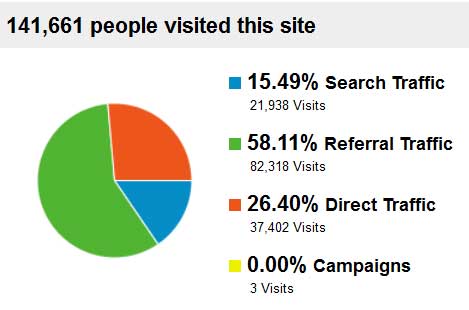 I have no idea what those three "Campaign" visits are supposed to be.
As far as where traffic comes from, the top five referral sources are:
Reddit
Facebook
StumbleUpon
Reasonably Clever (Thanks Doyle!)
Brick Comic Network
The Survey Results
You may all remember that survey I kept bugging you about. Well 62 of you took the time to fill it out, and I really appreciate that. Your responses were all very interesting. I'll share a few of them.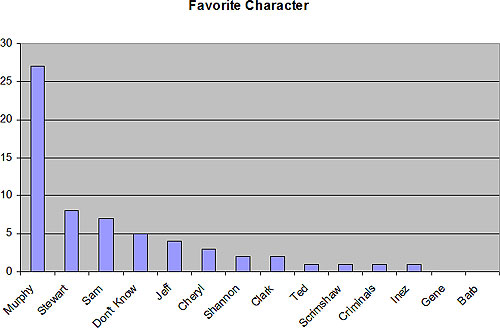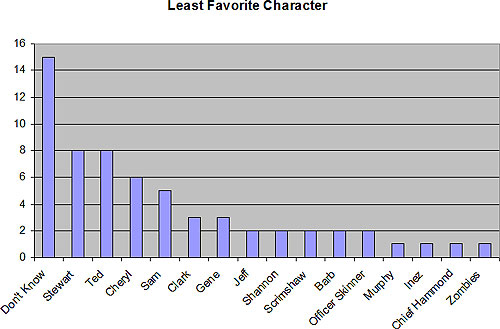 For the favorite/least favorite metric, I tried to parse out all the "Other" answers based on notes. It seems a lot of people either didn't have, or couldn't pick a least favorite character. And yes, they guy who wrote "the zombies" was probably being sarcastic. Also, people really seem to like Murphy.
As far as what everyone's favorite part of Bricks of the Dead was, the comic itself was the overwhelming winner, getting 79% of the votes. The remainder was pretty evenly split, with quite a few people saying that liked everything. Well thanks!
What would people change? Mostly, people would like to keep things pretty much the way they are, or keep things they way they are, only with more updates. There were also a handful of really good technical and content suggestions here that I'm going to try to implement. Finally, a few of you seem to be getting irritated with The Bonus Features. Don't worry, I've got a firm end date for that, and it's coming fairly soon.
As far as other items people want to see, there's a good deal of support (> 53%) for a forum, so I might look for good solutions there. It seems like you guys would also like to see more tutorials, how to articles, and reviews of LEGO® sets. I'll see what I can do.
Finally, just shy of half of the respondents indicated that they'd be somewhat to very likely to purchase an item that got a good review here, which is pretty damn cool. Slightly less of you (> 40%) stated you'd be interested in some Bricks of the Dead merchandise. No promises there, but I might see about getting a t shirt of a coffee cup or something done up. You guys all drink coffee, right?
What's Next?
So after two years, what's next for Bricks of the Dead? Well, more of the same. The Bonus Features are going to end soon, and I'm going to transition to three episodes per week, which should make a lot of you happy. I'm talking to some people that are doing pretty cool stuff about getting some how to articles up. We've got a healthy backlog of items to review, and I'm hoping to branch into more than just books, movies, and third-party accessories.
Sometime this year I also plan to give the site a bit of an update, both to add functionality and make the content more organized and easier to browse. And maybe see about a forum.
 Thank You
Lastly, I'd like to say thank you to every single people who has checked out my silly little webcomic over the last couple of years. I feel incredibly lucky to have such an incredible community of people to talk to every day about all things LEGO® and zombie. It's been a blast working on this, and most of that is because of you guys.