There's a lot of zombie stuff out there, and most of it is crap. People like to jump on bandwagons and produce quick tie-ins rather than investing love and effort into their creations. Luckily for you, I'm here to help separate the wheat from the chaff. Check back every Thursday, when I'm going to share the coolest zombie-related creation I can find out there on the web.
This week's creation, "Office Apoc" by NIRDIAN, is for all you white collar office drones like me. My cubical is within about ten feet of our breakroom, so if there was an office zombie outbreak, I'd probably be in trouble.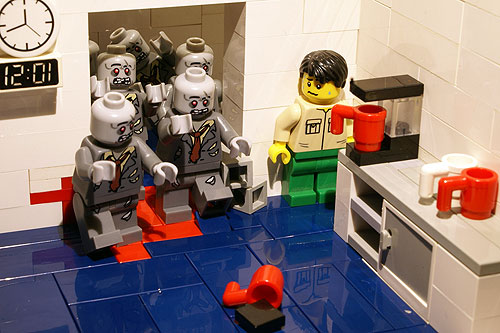 Zombie Build Review
What can I say, I just love this build. The drab, boring walls and counter remind me of every office I've ever been in. The run on coffee is perfect, and I laughed out loud at the digital clock under the analog clock. The little details are fantastic; I especially love the small shelves under the coffee pot. And the coffee pot? Quite a clever build using just four pieces (not including the cup of course). The only thing missing in here is a couple of garbage cans. Because we all know garbage cans make every creation 5% better, right?
The staging here is outstanding as well. The zombies pouring in create an excellent sense of motion. The office drone with his terrible hiding spot is  brilliant, as is the poor bastard who got devoured in the doorway. The use of red bricks and tile for blood splatter is well done without being over the top.
Long story short: I'd like more of this, please.
Have you seen a great zombie creation out on the web? Are you working on the next great zombie MOC as we speak? Well you had better let us know right away, otherwise we'll never be able to include it here.