Okay, wow. So The Walking Dead sent us to the mid-season break with a pretty explosive episode. A lot of the different plot threads out there came to a head, and a few new ones were introduced. While I liked the episode overall, there was one glaring flaw that really bugged me about it. Let's know that out of the way first, and then we'll get to the good stuff.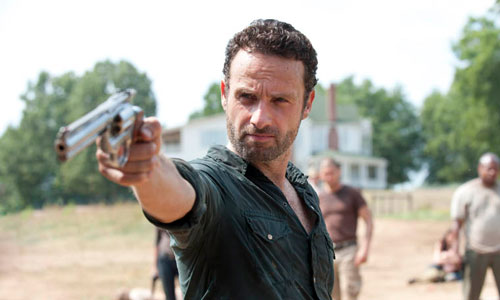 So, that flaw? Dale. Dale can be pretty annoying at times, especially when he's dealing with Andrea, but his involvement with Shane has taken this to a new level. I can deal with overbearing, jealous old man Dale, but what I can't take is "I'm going to take all the guns and hide them in the swamp" Dale.
This is a show about zombies, so you have to expect people to act stupid from time to time, and to make unilateral decisions about important matters without even talking to anyone else. But taking all the guns, wrapping them in a contractor bag, and then marching them out into the middle of the swamp is just insane. I mean, let's just consider for a moment all the different ways this could go wrong:
Dale could get lost or killed on his way to or from the swamp. Since no one knew where he went, finding the guns would be difficult at best, especially if he fell and dropped the guns into the water.
There could be a sudden attack at the camp, and all their guns are out in the middle of the swamp. Thanks Dale!
Dale, being an old man, could somehow forget exactly where the guns are.
The guns, despite being in a heavy plastic bag, could get damaged from the humidity of the swamp.
Someone else (Merle, perhaps?) could find the bag of guns and help themselves.
Shane could go nuts, and then no one would have the guns to step in and stop him.
So those are some potential issues I thought up in about a minute of brainstorming. There are probably a lot more. On the other hand, what are the benefits?
Shane doesn't have direct, easy access to the guns, at least until he finds them.
Okay, so one benefit against a litany of potential disastrous outcomes. This leads me to believe that Dale really didn't think through his actions in the least.
Okay, okay, so I've driven that into the ground. On to the rest of the episode, which I quite enjoyed.
I won't get into each plot in detail, but I will say that I've enjoyed the slow-burning Shane gradually getting more and more crazy throughout the series. Tonight that all exploded, starting early on when the group found out about all the zeds in the barn. From there he never really let up. Sure, there were moments of outward calmness, but inside Shane's head was a sea of insanity. Finding out that Lori was pregnant seemed to be the big pushing off point for him. He was creepy with Rick, obsessive with Lori, and weirdly fatherly with Carl. In Shane's head, he's already taking over for Rick, all he needs to do is move a few pieces into place.
Once Shane tracked down Dale in the swamp, there was no going back. He faced down the old man and walked right into his rifle, placing the barrel on his chest and daring the man to pull the trigger. Seizing the weapons, he marched back into camp and started pulling in anyone he could to his side of the argument, and doing a pretty good job playing of the various characters' need to protect the group and their families.
And then he tried to give Carl a gun, and that was maybe one step to far. People could start to see the craziness leaking through. Luckily for Shane, that's just when Rick and Hershel appeared, leading a pair of zombies on those things dog catchers use to grab dangerous animals. And, well, you know what happened from there.
We end the episode with Sophia finally reappearing, zombified, from the barn. For all Shane's big talk and sermonizing about killing the zombies and the futility in looking for Sophia, he can't pull the trigger. He just stands there, staring stupidly with everyone else. So it's up to Rick to step up to the plate, doing the leaderly thing by doing what no one else wants to do, but what needs to be done.
So where does that leave us when the show comes back in February? That's a good question. Shane is obviously trying to shake up the leadership of the group, but Rick reasserted himself nicely at the episode's conclusion. And then there's Hershel, who sat on the ground, completely unable to react to what he was seeing. And what about Carol and Daryl, who both seemed to find utility in the missing Sophia. With her "found", so to speak, where does that leave them? Neither character seems terribly stable, and with their one driving goal gone, I'm really interested to see what these characters do now.
Good mid-season finale. You know, other than Dale's idiocy.
Grade: B+
One final, mostly unrelated note. On two occasions someone posted spoilers for this episode in last week's comments. These were picked up by the spam filter and never showed on the blog. I, however, read through them to try to determine if they were in fact spoilers, or just someone's predictions for how the episode would shake out. I landed on spoilers do to both their specificity and the fact that they covered pretty much everything I would expect to see in the episode. Turns out they were dead right.
So why am I telling you this? First, just in case some other prick does the same thing later on, and it doesn't get picked up by the filters. Apologies in advance. And second, as a request to everyone not to post spoilers for either the show or the comics without properly labeling them as such.