Wow, seems like quite a lot got introduced last night, from some more in-depth discussion about how reasonable it is to continue to search for Sophia, to Daryl's hallucinating Merle who in turn tried to undermine the strength of the group, on up to Glenn stumbling into the otherwise normal Hershel's barn full of zombies.
Let's look at the Sophia one first, since the show really seems to be spinning its wheels on the lost girl. This time, the debate was between Shane and Rick, with Shane being the voice of cold logic and Rick defaulting back to emotion, with a few nice touches of pure selfishness thrown in for good measure. Shane's argument centered around looking at the situation logically. At this point, the girl has been missing so long that, statistically, it's extremely unlikely that she'll still be alive. Further searches are both putting people at undue risk, and slowing their progress to Ford Benning, a plot point I pretty much forgot about.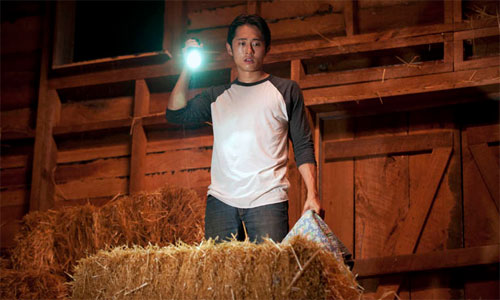 Rick, on the other hand, focused entirely on emotional arguments. Finding Sophia was the right thing to do, she's just a little girl, etc. But the most telling of his arguments was that they needed to find the girl because she looked right in his eyes and trusted him. He let her down, and he's willing to risk the safety of the group to make that right.
I believe there's a pretty interested debate here. While I try to be logical, I, like Rick, have a hard time overcoming the hurdle that there's a little girl lost in the woods full of zombies. Just writing her off and moving on is, well, a little cold. But I can definitely see what Shane is trying to say here. They have finite resources, most of their people have no experience in the woods, and every time they go out they're risking their lives. So where would I fall? I guess I'm just glad to not have to make the call.
Speaking of people risking their lives, poor Daryl sure ended up on the short end of the stick this week. After his skittish horse bucked him down a steep ravine, he found himself pretty badly injured and totally cut off. In pain and exhausted, he starts to hallucinate his brother bullying him into getting up and getting back to safety. A bit of a cheat after the Merle appearance in the promo, but I guess we should have saw that coming.
The fact that Merle, and by extension his insane paranoia, was all in Daryl's head was interesting, but I think it stretched believability a tad too far. Daryl has been a fairly well respected member of the group, who has risked his life time and again to help others, and is working well past the point of exhaustion to track down Sophia. I can buy that he's got some doubts about his place in the group and what these people truly feel about him, but Merle coming out and saying he was a hated outsider was just too on-the-nose for me.
However, Merle's pr essence did lead to one incredible transition: between Merle kicking Daryl's foot to get him moving, with the reveal that a zombie was trying to chew through the man's boot. Awesome stuff.  This, in turn, led to a pretty fantastic zombie fight, with Daryl brutally dispatching two zeds while in extreme pain.
And, of course, Daryl goes through hell to get back to camp, only to get winged in the head by Andrea with a hunting rifle. I honestly didn't care for this twist in the least. Andrea just blatantly ignored everyone telling her not to shoot, then takes a pot shot at a target she can't really see, all while four or five of her friends are down range, and after they all lay down arms on seeing who the "walker" really was? Stupidity.
Arguably the biggest development of the night was one I'd been waiting for since we met Hershel: the big barn full of zeds. It was very nicely setup a little earlier in the episode, when Rick mentioned that Hershel wanted to deal with the zombies personally, but the show never put too fine a point on it. When Glenn climbed into the barn anticipating a little loving and finding a dozen zeds inside, well, that was just fantastic.
Chupacabra was definitely a spacer episode. It was more focused on moving a lot of pieces into place than telling its own story, but that's an unfortunate necessity with serialized shows like this. It opened some interesting arguments, but fell back on silly coincidences and bad writing a little too much for me to praise. That said, I'm definitely interested to see where we're going next.
Grade: C+