Growing up I always had all sorts of great ideas for how to improve the games I played. Most of them involved allowing the character(s) to get off the beaten path and not treat every problem as though there was just one solution. The rest were basically ways of bring in more realism to the story (how come my guy never needs a nap? Shouldn't I be able to climb on that? Why couldn't I just tape my sword to a broom handle and kill the monsters from farther away?).
Since then, games have come a long way. Open world sandboxes are so popular and interesting that it's more than possible to get so wrapped up in the other stuff you can do that you never get around to finishing the main storyline. I've yet to see the ending to Grand Theft Auto IV, and it took me ages to finally beat Fallout III. Not because I wasn't interested in the story, but wandering around and getting into random adventures (and causing untold amounts of havoc) was just damn compelling.
That said, we're still pretty locked into the videogame status quo. As gaming becomes more mainstream and more profitable – big business, in other words – we see fewer and fewer games taking risks and trying new things. Thankfully, much like the independent film movement in the nineties, we are experiencing a sudden groundswell with independent game developers.
And what does all this have to do with zombies? Behold, Project Zomboid: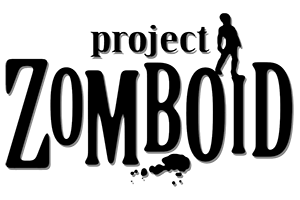 Project Zomboid is, to be succinct, the zombie game that zombie enthusiasts would make if they could. It's not a graphical powerhouse with destructible environments and cutting-edge physics, but it's a true zombie survival game, and that's what matter. What really sets Project Zomboid apart is that, instead of just blasting endless hordes of sprinting zombies in the face with military-grade weaponry (not that there's anything wrong with that either), you're just a regular guy trying to survive with only what you can scavenge.
The fact that it's a fantastically retro-looking isometric world is just icing on the cake.
One thing that I really love about Project Zomboid is that the question of survival isn't a joke. Between hunger, fatigue, injuries, and – yes – the walking dead, you'll have more than your hands full. As a matter of fact the developers have gone out of their way to say that you will, in fact, die. The question is only when and how.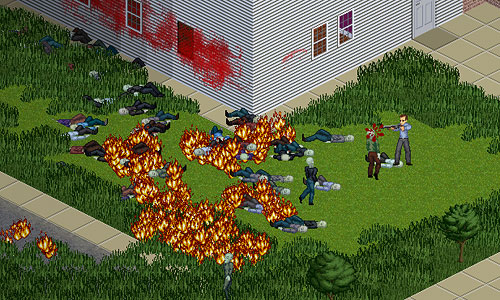 Having played a bit of the recently released pre-alpha tech demo, I can attest to the fact that getting through more than a few days is a challenge. Without a lot of supplies, you can't just hunker down and wait out the zeds. At the start you're not exactly a walking armory, so going out scrounging is a dangerous task. Braining zombies with a hammer is doable one at a time, but any more than that and you're rolling the dice. All it takes is one little scratch and you're infected.
Yeah, that's right. If you get scratched or bitten, you're infected. There's no immunity here, nor is there a cure. Getting infected brings a strange sense of finality to your last few hours in the game. You know you're screwed, but what are you going to do about it? I like to go out with a bang, taking as many of those undead bastards with me as possible.
In Project Zomboid you can't just go running around exploring and dodging the ever-present crowd of zombies; you'll need to eat and sleep as well. These constant needs are what get you in trouble. Go out to find food and you run into zeds, close your eyes to get rested up and awake completely surrounded. Defending yourself causes further problems. Using a hammer or a baseball bat isn't terribly effective against multiple zombies, but if you use a nice loud firearm, you've just rung the dinner bell.
Now at this point the game is still pretty rough. There isn't a ton of functionality, the models aren't completely done (so the zombies all look pretty similar), the animations are mostly missing, and you don't have a lot of items at your disposal. Despite all that, Project Zomboid is still a blast to play. It's even more fun when you think about all the other stuff that's going to start popping up in the game as the development gets further along (and it seems like the development team is adding new stuff every day).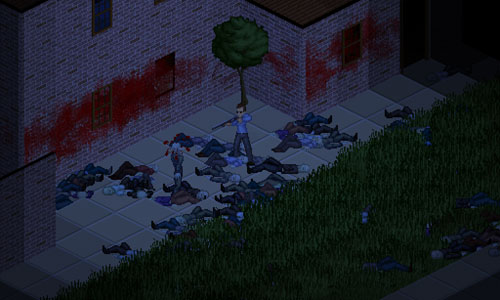 At this point I hope you're wondering how can you try our Project Zomboid. All you need to do is go here and make a small donation (I think it was about eight bucks or so). To stay in good graces with Google Checkout they're having you actually buy another, POS game, but that's just for show. You'll get a login and password by email in a few minutes, and then you can have at it.
So why am I evangelizing this game? A few reasons. First, I think it sounds awesome and I'm legitimately excited to see how it shakes out. Second, I think indie development is really cool, and I like to support them when I can, especially when the project is something I'm into like zombies. Third, it's zombie related and I know you guys like zombie stuff. Win-win.
Oh, and for those of you keeping score at home, yes, the zombies are slow and lumbering.