Editor's note: this review of AMC's The Walking Dead will contain some spoilers. I will try to keep them to a minimum, but they're be there nonetheless. You've been warned.
After a ludicrous cliffhanger and a summer of wondering, The Walking Dead has finally returned, and frankly I'm left a little cold. I'm probably going to be in the minority here, but the season seven premiere just didn't work for me. Sure, there were some good moments here and there, but on the whole I just didn't get a whole lot from it. When you balance that against the way The Walking Dead withheld the killing off of characters for the next season, "The Day Will Come When You Won't Be" felt like a failure.
Let's address the biggest problem first: Neagan. As a villain, he just don't work, and that's a damn shame. I like Jeffery Dean Morgan and was really excited when I learned he'd been cast as the show's next big bad. I had also heard lots of things about the character of Neagan, and was quite excited to see how things would come together. Unfortunately the result is a bit of a mess. I think the big issue is that they're trying to imbue Neagan with two radically different personality traits that simply don't work together. His calm menace should be terrifying. His psychotic quips and madman's humor should chill us. Combine them, however, and he instantly loses all menace.
That's right, I just said that the man who just beat two men to death with a baseball bat wrapped in barbed wire isn't menacing enough. It's not that I'm desensitized to the horrors of those acts of violence – they were indeed hard to watch – it's just that the character of Neagan destroys the tenseness of the scene.
So how tense did I find the episode in general? Not very. In fact, my Fitbit (don't judge me, I'm trying to get in better shape) actually thought I was sleeping during the course of the episode. That's right, my heart rate was so relaxed that my Fitbit couldn't tell I was supposed to be horrified. I call that a huge failure.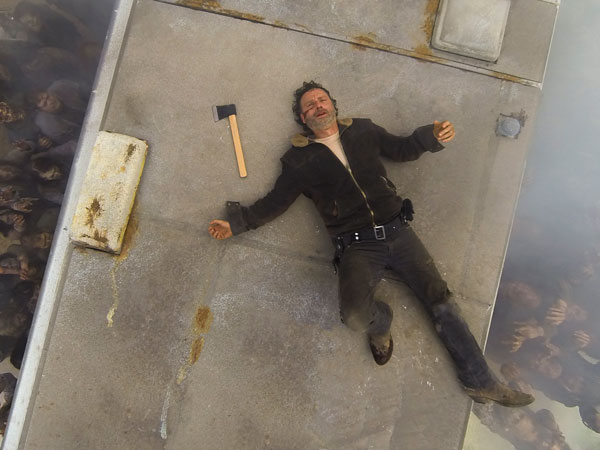 With that out of the way, let's address the big plot points of the episode. First, Neagan killed off not one, but two big characters. That was tough. I liked both Abraham and Glenn quite a bit, particularly Glenn. Their deaths were absolutely ghastly, especially Glenn's. And seeing the emotional impact it had on the group was affecting.
The other big moment was Neagan's breaking of Rick by forcing him to (almost) cut off Carl's hand. Sadistic as it was, I actually thought this was the strongest part of the episode. Not only did it recall Rick's missing hand from the comic, but it also mimicked the story of Abraham and Isaac from the Bible. I thought that was a pretty interesting bit of allusion that says some interesting things about Neagan and Rick's future relationship. It's also another strange bit of trivia in The Walking Dead's confusing relationship with religion, but I'll let someone smarter than me unpack all that.
High points aside, I was extremely disappointed by the episode, as I was of last season's finale. I hope the show can correct course and find ways of building characters and telling interesting stories, because I have absolutely no desire to sit down for an hour of misery porn every week.
Grade: