Editor's note: this review of AMC's The Walking Dead will contain some spoilers. I will try to keep them to a minimum, but they're be there nonetheless. You've been warned.
"The Next World" stand in stark contrast to the mid-season premier, "No Way Out". Where the latter was oppressively dark and filled with loss and misery, the former is uncharacteristically light. It's almost whimsical.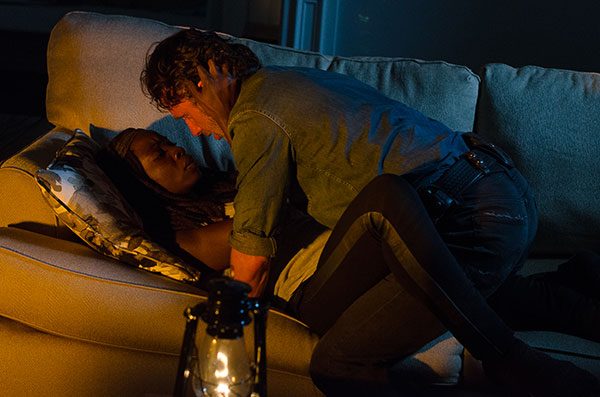 The Walking Dead smartly decided to skip forward in time a bit following the zombie attack on Alexandria, giving the community time to heal, mourn, and begin to rebuild. No where is this more evident than in the Grimes household, where Carl seems to be getting along just fine despite his grievous injury, and Judith is happily rolling over in her crib, and Rick has found a real human connection in Michonne. Their pairing caught me be surprise, but it makes a lot of sense. Certainly much more sense than Rick and the abused soccer mom.
This was also not an episode where a ton happened. The story was divided roughly in half between Rick and Daryl's adventures, and Spencer coming to terms with his mother's death. Let's tackle Spencer's story first.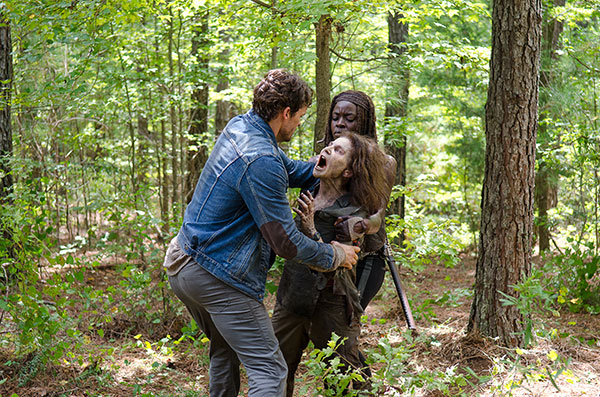 I really liked that way his quest brought support from Carl (AKA Coral) and Michonne. Their instant readiness to help him out really shows how much this community of survivors has finally grown together; a cohesion that they desperately need. That said, I really don't think too much of the Spencer character. He seems extremely uneven, like the writers use him less as a real character than as a way to fill various holes in the story. Perhaps this is the beginning of a real arc for him.
The lion's share of "The Next World" focuses on Rick and Daryl's trip out to gather supplies, and their run in with an extremely capable survivor whose friends call him Jesus. The trio play out a back and forth game over the possession of a panel truck filled with supplies, ultimately losing everything due to their mutual unwillingness to trust and cooperate.
The entire sequence was light and fun, but felt more than a little out of place considering where these characters are now. This is a story that would have fit much better in the show's first or second season. Now that supplies are in much more demand, it seems strange that anyone would jeopardize such a bonanza over what turned out to be a bizarre competition between three hyper-competent survivors.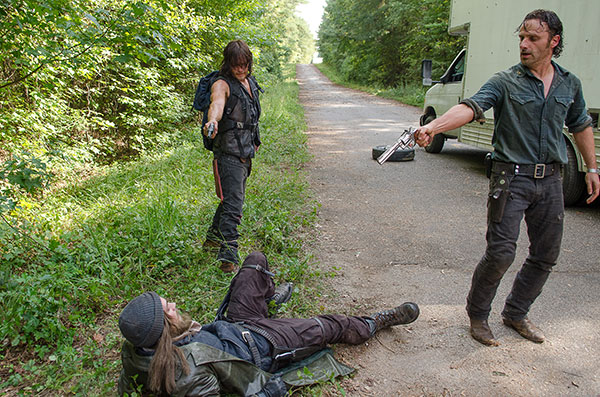 My favorite moment in the episode was one of the smallest, which happened right at the beginning. Dr. Denise and Tara are now a couple, and the good doctor petitions Daryl to locate some pop (the Michigander in me appreciated the regional nod) for Tara. Her shy awkwardness was really endearing, as was Daryl's struggle to converse with her in any meaningful way, only buttressed later by his continued efforts to secure Tara's gift.
This was a fun, but uneven episode of The Walking Dead. I enjoyed it, and appreciated the reprieve after all the bloodshed of last week, and before whatever awfulness is coming near the end of the season. A little light fare is nice every now and then, even in the zombie apocalypse.
Grade: