LEGO Zombie Creation: The Greenhouse
on
September 19, 2013
at
12:00 am
There's a lot of zombie stuff out there, and most of it is crap. People like to jump on bandwagons and produce quick tie-ins rather than investing love and effort into their creations. Luckily for you, I'm here to help separate the wheat from the chaff. Check back every Thursday, when I'm going to share the coolest zombie-related creation I can find out there on the web.
The Zombie Creation:
This week's LEGO Zombie creation, "Apoc Scene 2: The Greenhouse" by Nooreuyed, is an incredibly striking build that utilizes lots of transparent pieces to give us some really nice lighting effect. Also, there are zombies, and I heart zombies.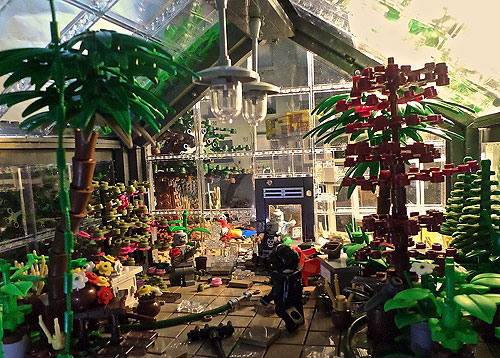 So What's Going On?
We have a verdant greenhouse that no doubt looks extremely inviting to a zombie apocalypse survivor. Unfortunately for those survivors, the greenhouse isn't exactly secure.
The build quality here is fantastic, and the use of transparent walls and roofing is not only appropriate for the subject matter, it also gives us a sense that this greenhouse is part of a larger world by showing us a bit of what's going on outside. I really like this effect.
Let's Talk About the Zombies
The zombies here appear to be your garden variety ambulatory corpses. Not that there's anything wrong with that. There's not really enough in the image to suss out whether these are fast zombies or slow, so it's up to the viewer to decide that for him/herself. I'm cool with that, and declare that these are slow zombies that moan all the time because I like that sort of thing.
Your mileage, of course, may vary.
Have you seen a great zombie creation out on the web? Are you working on the next great zombie MOC as we speak? Well you had better let us know right away, otherwise we'll never be able to include it here.