Horror Movie Review: Session 9
on
September 10, 2013
at
12:00 am
It's really tough to review something that starts out strong with an excellent cast and a strong tone, and then just completely falls apart at the end. Session 9 is a film that had all the right things going for it, but the lynchpin of the movie was the ending, which not only fell flat for me, but just didn't make any damn sense.
That invites the question: how do you judge a piece of art? As a whole, or by its various pieces? Does it depend on the work itself?
Let's start with what works here. Easily the best part of Session 9 is it's beautiful and supremely creepy location: an abandoned 19th century asylum that's being renovated to remove the asbestos by a crew who are desperate to meet their ludicrous deadline of one week in order to claim a generous bonus.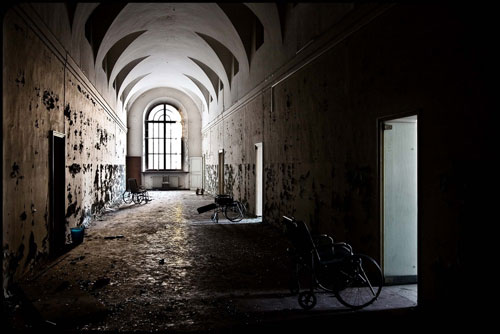 Make no mistake, the shuttered hospital is the real star of this film. The Danvers State Mental Hospital was build in 1874, and slowly began shutting down in 1969; finally completely closing in 1989. Read the history at Wikipedia for some really cool back story. This please is supremely creepy. As we watched the film, my wife and I constant mentioned how completely terrifying the place was, and we were saying that long before the power went out and people were running through the steam tunnels. This place would scare the hell out of me in broad daylight.
This is what I call stacking the deck. When you set a story in a place like Danvers, it's really hard for it to not be scary. All you need to do is throw some decent actors into the mix, some nice lighting and reasonably unsettling background music, and you've got a scary movie.
But at the end of the day, plot still matters (this isn't a character driven drama, after all). This is where Session 9 gets tough to grade. It's not a fast moving film; it indebted to the Hitchocking mold of slowly building up tension and until things go off the rails in the final act. That craziness is rooted in an event that tales place far earlier, which is very slowly revealed through an ever-expanding flashback series.
Unfortunately, I can't really discuss this without spoiling the ending, so if you want to avoid spoilers, just skip ahead to the last paragraph. Go ahead; we'll wait.
So here's what happened. The head of the crew – described throughout as completely grounded and even-tempered – freaks out and kills his wife, infant child, and yippie little dog. Then, he represses this memory. While this is slowly revealed, we get a lot of scary imagery between the hospital and a series of taped therapy sessions with a woman suffering from multiple-personality disorder (this is a movie, let's now worry to much about the fact this this has been dis-proven). These two stories mix up, and you're left trying to piece out exactly what happened. Was the murderer possessed by the same thing as the patient? Was that all a red herring to distract us from the fact that the guy just snapped due to sleep deprivation and other stress?
Ultimately, we don't know. Now, I don't mind this sort of thing in general. I like a story that's open to interpretation, and I like it when my perceptions are challenged. What I don't care for is when the story makes crazy, character breaking leaps of logic in order to keep you on the wrong path. They do this with David Caruso's character, who regularly lies and overreacts for no reason other than to throw you off the scene of what actually happened. I like to be fooled, but I don't like to be cheated.
While Session 9 gets the atmosphere right, the story just doesn't work for me, and that all comes down the ending, which feels like a cheat.
Grade: