TV Review: The Walking Dead: Home
on
February 17, 2013
at
5:09 pm
For the first two acts of the show, I figured "Home" was another episode full of moving all the pieces into place. And then things exploded. While the game-changing last few minutes of the episode were as exciting as anything we've seen on the show thus far, lets start back at the beginning, shall we?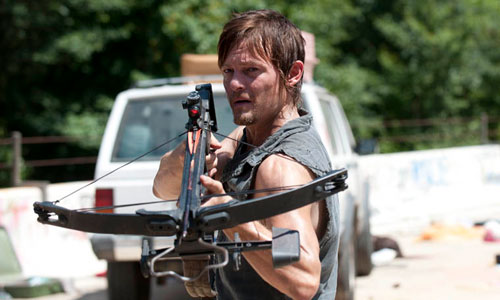 Poor Rick starts the episode chasing the same ghost he saw at the end of last week. Only this time, instead of yelling like a madman, he chases her down. Rick finally finds Lori outside the prison walls (he left the gates unlocked in his pursuit). From there, Rick decides to live outside the walls, chasing down ghosts until, well, something happens.
Inside, an increasingly frustrated Glenn is trying to shore up defenses in preparation for an inevitable incursion from Woodbury. Unfortunately for him, the only one who seems interested in helping is Carl. Maggie is still getting over her experience with the Governor, and Hershel is convinced that packing up and running is the only thing to do. Eventually, Glenn gets mad and drives away. We never learn where he went, or why. Perhaps this will factor in next week. He does come back with something tarped in the back of his truck, but it might be that was there when he left and I just didn't notice.
Carol and Axel work on setting up places to duck behind in a firefight, and grow a little closer. Axel turns on his white trash charm, and Carol seems to be flattered by his attention. It's a cute scene that lends a lot of weight to what happens later in the episode.
Back in Woodbury, the Governor is scheming all over the place. One minute he tells Andrea that she's the leader Woodbury needs, and the next he's telling his worming associate that she can't be trusted. Then, he just sort of disappears, along with several cronies. Andrea is understandably concerned about this – despite the Governor's assurances that he plans to leave the prison alone.
Meanwhile, Daryl and Merle are having some much needed bonding time. Merle tries his normal antics to get his brother in line, but it becomes more and more apparant to everyone that Daryl no longer needs his big brother. In point of fact, it's looking like Merle is the needy one these days.
The two happen upon a group of survivors who are stuck on a bridge, being attacked by zombies (I just refuse to use the term "walkers"). Merle, of course, doesn't want to help, but Daryl runs in and plays the hero. After a good deal of cross-bowing, and a bit of knife work, the zombies are gone and the survivors are safe. Well, safe from zombies anyway, Merle does his best to intimidate them. Once again, Daryl takes charge, and holds his brother at quarrel-point until the others can escape.
It's a pretty great sequence, with a couple really fantastic zombie kills (closing a zombie's head in a door? yes please!). It's all a setup to help get the brothers back to the prison where they're needed, of course, but The Walking Dead goes about it with aplomb.
Speaking of being needed at the prison, things aren't going so well there. We get another scene of Axel sweet talking Carol, only this time he gets shot through the head. The yard explodes are multiple shooters start tearing the place up, and our heroes are all over the place (Rick's outside the fence and Glenn is MIA). After a lengthy firefight, during which no one can seem to hit anything, the Governor's secret weapon arives: a bread truck full of zombies, which also takes out a set of gates.
When all was said and done, both sides lost one person. Poor Axel is no more (and was used as a human shield for quite a while), while the Woodbury folks lost some anonymous stooge in a guard tower. However, this event likely did more good than harm. Here's a quick summary:
Glenn is back, and ready to protect his group
Rick shook off all that crazy looks to be ready to fight
Michonne helped immensely, and hopefully earned her ticket into the group permanently
Daryl and Merle show up just in time to save Rick, which should earn them the right to stick around
Maggie had to let go of her fear and trauma and fight for the group
Of course, Rick might get crazy again, or Merle might make things difficult, but for now they should be united behind a common cause. I'm curious to see how long that lasts. I really hope this settles Glenn down a bit. I'm not really a fan of him being in angry teenager mode. It seems like The Walking Dead is always looking for a reason to send people off on their own, and I just can't buy into this one for Glenn. It was the weak part of the episode for me.
One thing I'm curious about is what happened to Tyrese and company. Did they really leave after Rick's episode? Are they coming back? I really hope we haven't seen the last of them. I've always been a fan of Tyrese, and I think he could bring a lot to the group.
Grade: