LEGO Zombie Creation: Don't Open, Dead Inside
on
January 24, 2013
at
12:00 am
There's a lot of zombie stuff out there, and most of it is crap. People like to jump on bandwagons and produce quick tie-ins rather than investing love and effort into their creations. Luckily for you, I'm here to help separate the wheat from the chaff. Check back every Thursday, when I'm going to share the coolest zombie-related creation I can find out there on the web.
The Zombie Creation:
This week's creation, "Don't Open, Dead Inside" by Lego Junkie, is yet another take on the hospital scene from The Walking Dead. I don't know what it is about that scene (it is quite evocative), but it's really inspired some fantastic LEGO® recreations.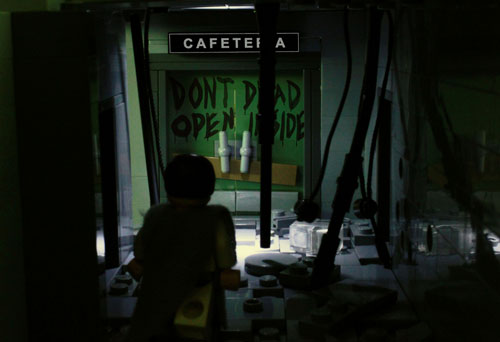 So What's Going On?
Well, as anyone who has read or watched the first comic/episode of The Walking Dead can attest, this shot shows our protagonist, Rick Grimes, exploring the abandoned hospital he finds himself in at the beginning of the series. It's one of the most powerful images the series has mustered, and this is rendered absolutely beautifully.
The coolest thing about this creation has nothing to do with the build, although that is excellent as well. It's the lighting. The use of shadow here is absolutely amazing. We get lighting on just the areas we absolutely need, while everything else is bathed in an inky pool of shadow. This sets quite a foreboding mood. The lighting also directs the eyes right to the cryptic note on the door, further adding to the tone.
Let's Talk About the Zombies
There are, of course, no zombies in this MOC, but I think we all know what awaits poor Rick beyond those doors.
Have you seen a great zombie creation out on the web? Are you working on the next great zombie MOC as we speak? Well you had better let us know right away, otherwise we'll never be able to include it here.