Zombie Creation: Retaking LEGO City
on
January 17, 2013
at
12:00 am
There's a lot of zombie stuff out there, and most of it is crap. People like to jump on bandwagons and produce quick tie-ins rather than investing love and effort into their creations. Luckily for you, I'm here to help separate the wheat from the chaff. Check back every Thursday, when I'm going to share the coolest zombie-related creation I can find out there on the web.
The Zombie Creation:
This week's creation, "The Retaking of LEGO City Begins!" by 69ZombieSlayer, is, well, I'll just let you take a look at it yourself.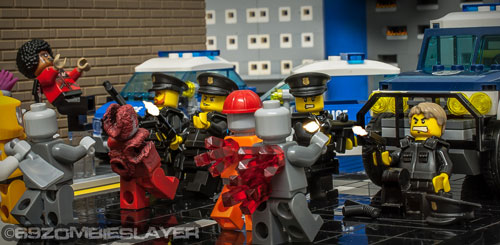 So What's Going On?
Pretty awesome, right? I think that, between the title and the image itself, it's pretty clear what's going on here. Remaining survivors (primarily police, at least on this street) are ready to retake their city from ravaging hordes of the walking dead. To accomplish their goal, they're going to shoot them. A lot.
Unfortunately for them, they either don't know they need to make head shots, or aren't able to for whatever reason. The vast majority of shots are passing right through the zeds, as they slowly make their way toward the living. Of course, this gives us some pretty cool effects; I particularly like the use of red gems as blood splatter.
Beyond all the action, we've got a pretty sweet scene here. It's a cityscape, with some nice out-of-focus buildings in the background. Nothing to fancy as far as builds go, but it's laid out and photographed extremely well, making the whole scene really come together.
Let's Talk About the Zombies
It's sort of hard to tell how these particular zombies work. The scene creates a sense of frantic motion, which to me suggestions fast zombies.
Have you seen a great zombie creation out on the web? Are you working on the next great zombie MOC as we speak? Well you had better let us know right away, otherwise we'll never be able to include it here.