Where the first half of the season was rife with wheel spinning and time wasting, it seems like The Walking Dead has finally figured out that it's a dynamic show and needs to keep things moving as often as possible. While I'm pretty critical of the shows character building, when it hits the action and terror beats, it's a pretty damn solid show.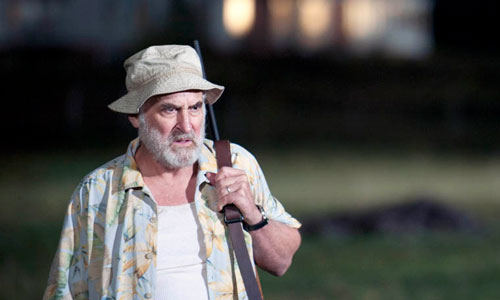 This week's episode had two primary plots that dovetailed quite nicely at the end: Dale's quest to prevent the group from executing the boy the rescued/captured, and Carl acting like a dipshit. My quick description of the two should give you a pretty solid clue about which one I thought worked better. Let's talk about Carl first.
In the comics, at least those I've read (I'm probably two years behind at this point), Carl is a pretty strong character. He's mature, intelligent, and decisive. He's able to do what needs to be done and face the consequences later. At of this, of course, stems from an extremely important formative moments that hasn't happened on the show yet, and may never happen, considering how drastically different the two are.
On AMC's Walking Dead, Carl is a little more a child of his age. Impetuous and often stupid, as in tonight's episode where he sneaks into the barn to see the prisoner, insults a grieving Carol, steals a gun, and brings a zombie back into camp after almost getting eaten himself. Any one of these things, or all of them spread out over a couple of episodes, would have been sufficient to show us that Carl is struggling and unseated in this new and violent world. All of them together is just a little much.
Carl's mini-rebellion, of course, leads to Dale getting gutted at the end, and I can't help but wonder whether this is going to replace (massive comic spoilers) his killing of Shane in the woods outside Atlanta. I surely hope not. Certainly in both instances he'll be responsible for a death, but in the comic it made a lot more sense with both the plot and the character. Here it's just deeply tragic.
But what of Dale? Tonight we finally got a lot of focus on the character that many have found struggled with throughout the series. Dale started in season one as a pretty strong character, but this season he's primarily served as a foil for both Shane and Andrea, giving him little faculty of his own. Tonight was a little different. Dale was again squaring off against Shane, but this time Shane had the support of the whole of the camp. Dale was arguing for an old world, a world of law and order. It was a futile last grasp of a man not cut out for this life. His ultimate and predictable failure was touching nonetheless.
But of course the camp doesn't execute Randall, at least night in last night's episode. He's dragged into the barn and forced to kneel before Rick and his comically over-sized movie gun, but Rick can't pull the trigger once Carl shows up and starts goading him on (this kid has issues, me thinks).
All of this, of course, leads up to the finale. Dale is walking around the farm, collecting his thoughts, when he spots a cow that had been eviscerated. Dale shares the same fate almost immediately. His fellow survivors arriving only moments too late. Again Rick pulls out his giant revolver, only to not put the old man out of his misery. Daryl steps in, and the credits roll after a snap-cut of the hammer falling on the gun.
I was pretty frustrated with the episode up until we saw Dale wandering around in the dark. It felt unbalanced, and circular. We are being teased with Randall and what the camp is going to do with him, and for another week that isn't resolved. But then The Walking Dead pulled the rug out from under us, and killed off a principal character in a way I doubt any of us saw coming. Yeah, that it was the zombie Carl was messing with was a little convenient for me, but I'm not going to complain too much. Hopefully his is a sign that the show has teeth, because it has been largely free of consequence.
Grade: 

Note: we're trying a new grading system here. Out of five possible zombie heads, this episode earns four. Roughly a B, for those keeping track at home.