After the first half of the season ended with Shane passing out guns and unleashing the zombies in the barn (and – of course – finding the now zombified Sophia), many of us were anxiously anticipating the return of The Walking Dead to see what sort of repercussions there would be. Tonight we found out: not many, really. Sure, Hershel and his family were upset, and ordered everyone off their land, and Dale and Shane continue to butt heads, but otherwise there wasn't as much tension as I would have expected.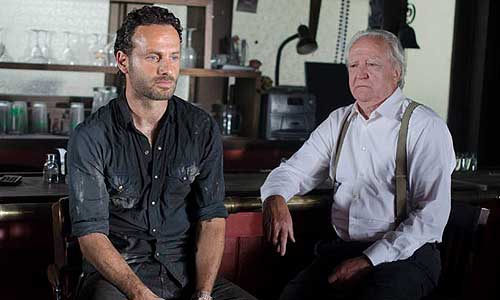 But maybe that's because I'm looking for something more immediate and visceral, and it looks like The Walking Dead is going to take a slower, subtler approach to things, perhaps inspired by it's sister shows, Breaking Bad and Mad Men. That might be wishful thinking, of course, but I'm interested to see how it shakes out.
We already see some tension brewing between the parts of the camp (T Dog and Andrea) who think Shane did the right thing, and everyone else, with Dale being the loudest of the detractors. Meanwhile, Daryl is glowering and withdrawing from the group (and also making his own crossbow bolts? Bad.Ass.) and Hershel skips out on everyone to go tie one on at the bar. This is not the cohesion the group should be striving for.
Other than that, people are pretty much going about their business. Bodies are picked up and tossed in the back of a truck, an ad hoc funeral is held for the few zombies people recognize, Glenn and Maggie fight and work on evolving their relationship. Life on the farm continues, but it seems like the stakes have been raised.
But then Beth (I had to look up the character's name) suddenly falls ill, and everyone realizes Hershel is gone. Rick and Glenn decide to go find him and drag him home, which – predictably – turns into a fight. Stranger still, when Rick and Glenn find Hershel sitting in the bar, and tell him that his daughter is unresponsive and needs immediate medical attention, he hand waves it off like he can't be bothers. It's bizarre.
While Rick and Glenn are working on Hershel, Beth takes a turn for the worst, which means Lori gets a wild hair up her ass about getting Hershel, Rick, and Glenn back, post haste. Her attempts to get Daryl to find them fall on deaf ears, so she hops in a car and takes off. And I don't get it at all. Lori doesn't strike me as an impetuous character, and her husband is already out rounding up the doctor. What, exactly, does she think she's going to accomplish here? You know, other than not looking at the road, hitting a zombie, and somehow managing to roll her car.
While the episode as a whole was solid, the Lori cliffhanger really bothered me. It's like the writers needed to put a character in danger, and had some special effects budget to blow, so they mashed the scene together without a whole lot of thought. Let's not forget, Lori's pregnant. And she's got a son to look after. These are awfully big risks for a person to take in these circumstances, and in rings totally false to me. If you need a female character who has no problem making poorly thought through snap decisions, why not use Andrea? That's what she's there for.
But enough of that, because things got really interesting at the bar. Just as everyone is ready to leave, in walks a couple of dudes from Philly (one of whom is Rene from True Blood). You can tell immediately that these guys are shady, and will be putting Rick and company in a tight spot soon enough, but The Walking Dead manages to wring every bit of tension out of the scene. It's supremely suspenseful, and plays on the show's major strengths. The quick-draw shootout at the end is just icing on the cake.
While the episode had some low points (Lori), it was a pretty great way to draw us back after the mid-season break. We got tension both slowburning and fast, at the farm and the barn, respectively. I'm excited to see where this season goes, although I really hope it's off the farm, because I'm getting sick of this damn farm.
Grade: B