As a prequel to Pride and Prejudice and Zombies, the story opens a few decades after the original zombie outbreak that almost destroyed England. As with all historical events, as the years have passed, the general population and younger generations feel that the danger will never resurface and that the "dreadfuls" are definitely fodder for history books and not proper English life. But we all know what complacency can do, and – as expected – England is on the verge of another devastating outbreak.
Enter the Bennett family. Patriarch, Mr. Bennett, played in my head by Donald Sutherland, is a veteran of the first "dreadful" outbreak but has not lived up to the code he swore allegiance to by not training his children to be warriors. After the most eventful funeral I've ever read about, Mr. Bennett corrects this error and begins the training of his 5 (yes 5) daughters in the ways of "the deadly arts".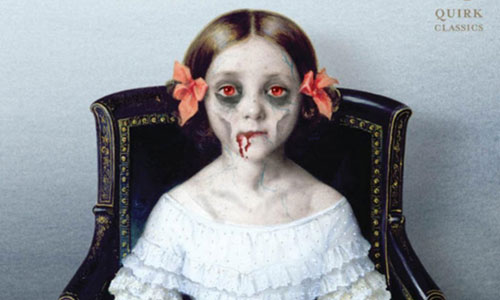 This book includes the entire Bennett family, minus the pompous Mr. Collins, all of which were (again) played in my head by the cast of the 2005 film featuring Kiera Knightly. Sweet, quiet Jane is beautiful but lethal. Elizabeth (Lizzy aka Kiera) is rational and witty, but determined to be the best warrior she can be. The 2 younger sisters, Kitty and Lydia, are giggly and pouty, but take to the training with gusto. Even thoughtful Mary eventually grows to love her new training.
Grahame-Smith throws in a few new characters that add to the fun.
This is completely ridiculous in the most awesome way possible. Zombies are never called zombies; they are "dreadfuls," "unmentionables" or the "stricken" because, of course, proper English Gentility would never use such a vulgar word!  Also, the Bennett girls spend as much time worrying about their social lives as about their zombie killing training and abilities. Although this sounds like a page out of a cheesy anime show, it actually works in this book. Each character is true to the person Ms. Austin imagined them to be, but Grahame-Smith takes those personalities and asks "What if they trained to be warriors and not just Ladies?" The sisters take to warrior training with a sense of duty to family; as if they were asked to learn how to learn to play piano or to prepare a home for a ball. They are unsure of why they must learn but they know that saying no is not an option. And seeing these ladies work hard to hilarious without a sense of sarcasm or condescension the idea would provoke.
The author commits fully to the traditional zombie with descriptions of animated corpses that draw a great picture in your mind. These are full-on, flesh eating, oozing, drooling, hungry zombies. Since this is the pre-outbreak, we see the characters preparing for the impending war with great ideas including a visit by Mr. Bennett and Jane to the local cemetery to see how much progress the residents have made to reaching the surface.
I will admit that I was skeptical to read this book because, let's face it, zombie fans do not seem to have a ton in common with Jane Austin fans. But I have to say that this was the most entertaining book I have read in some time, zombie or otherwise. The very frightening situations caused by social awkwardness are just as frightening as flesh-eating undead, and Seth Grahame-Smith does a great job of bringing these two themes together. I absolutely recommend this book for both the Jane Austin fan and the Zombie Apocalypse fan.
Grade: B