Probably the easiest way to initially describe ZMagazine is to simply quote its mission statement: "The first magazine written by zombies for zombies". The magazine is written up as if zombies have been around for about 50 years, and a section of intelligent ones were weaved into society. Your standard killing shambler is also wandering about somewhere. Those that are trying to fit in with the living are dealing with the issues you can come to expect from being undead. Everything possible is discussed from acceptance, dry eyes, zombie depression, dealing with hand guns, and it even goes so far as to have advertisements marketed towards the undead. So as you can imagine there is a lot of ground the magazine can cover.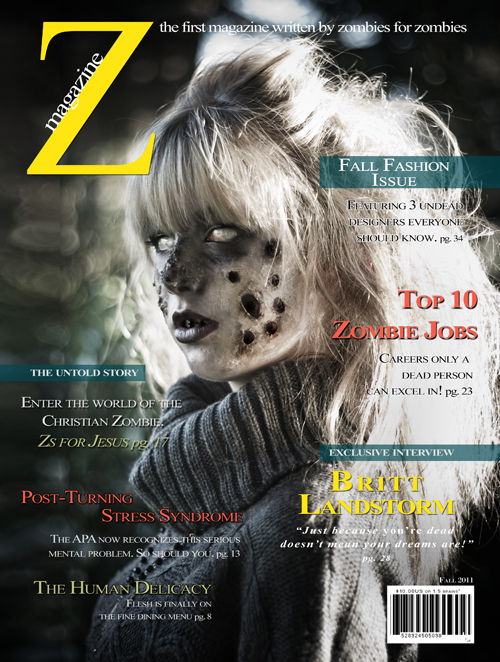 "Reconsider that vaca in the tropics. Each trip you take to a humid location (or if you live in one) takes its toll on your body. The hot, wet air speeds up decomposition. For the living, smoking takes years off their lives. For us undead, that time in the Bahamas will, too."
It's a stretch to even call this a magazine, as that really doesn't fully address what ZMagazine is. This is more of a collection of boundary-free creativity. It's so unique that I wouldn't be surprised if a movie was based on it. Think of the movie Fido, and then add in a lot more diversity in content and you've got a general idea of ZMagazine. With that in mind, it should be clear this isn't a horror magazine like Fangoria; this is something entirely new that moves past the templates in which we all-too-often find the horror genre stuck. The undead has never been so classy or artistic.
Surprisingly, it turns out that this is an independent magazine born of a group of friends and family. It was created over the span of two months to showcase at this year's ZomBcon in Seattle. And I say stunningly, because from the quality of paper to the amazing ads you see on this post, the magazine itself easily surpasses what you'll see on the shelves sitting next to itspeers that are financed by huge corporate media conglomerates. When I ordered this I was honestly expecting a small novelty pamphlet or a short magazine parody, and was subsequently amazed at what it turned out to be.
Thankfully the reception has been good enough that the creative powers that be, led by Eloise Knapp (editor, model, editor, makeup artist, photographer, designer), that there will be further editions to ZMagazine. I think It's safe to say that due to the sheer amount of time that goes into something like this it will likely never be a month to month magazine and will likely stay quarterly or perhaps with a few extra issue made for special events like other zomBcon type gatherings. Honestly I think that's best to keep it fresh and interesting.


Zs for Jesus"Garrett Jones is a zombie. So, too, is the rest of the End of Days congregation. I had spoken with him several times in recent weeks while researching the zombie Christian movement. Garrett has been in the national spotlight over the past several months as an outspoken advocate for changing the perception of zombies among the living and pushing the bounds of what it means to be Christian. It was his family that burned on the church lawn. He's the last of the family line and feels he has a special mission from God that must be fulfilled before he meets the same fate."
What is exciting about this magazines future for us zombie fans is that it seems like the magazine has left itself open creatively and not overly-defined itself. Proof of this is that they have opened themselves up to everybody (that means you!) to submit content for possible additions to future issues so expansion will come through and stay in the zombie community of fans. Anyone with a creative writing itch can go here to read the format guidelines, which are liberal enough to give you flexibility for your own creativity while meeting what they are looking for. The winter issue deadline is December 11th 2011 so you have time to get something in and I don't think you will ever find a better opportunity to get something published than this. Submissions will have to go through an approval process for editorial quality control so don't think just anything will get printed.
Flipping through ZMagazine there really isn't anything to criticize, as there is nothing lazy or halfhearted about it, but in future editions I would love to see some short story type articles along with it getting a bit darker but my bet is that is something we will see happen.
Copies can be purchased here for $14 and that includes shipping.
Grade: A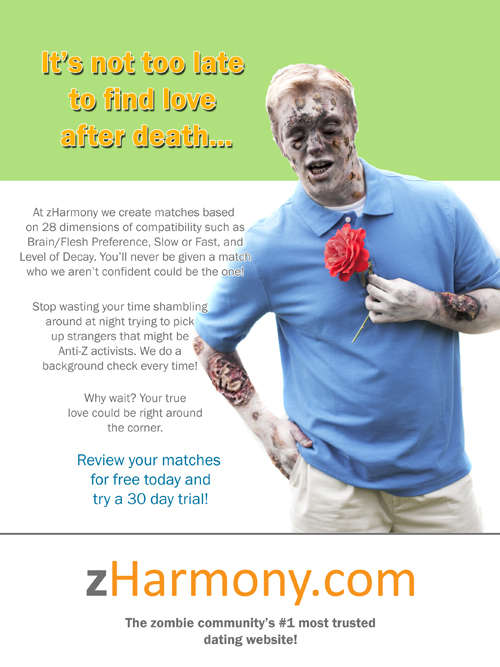 Eloise J. Knapp is author of The Undead Situation