After last week's explosive episode, this week slows down quite a bit to let us spend some time with our characters. And to my surprise, the show actually does a pretty decent job at it.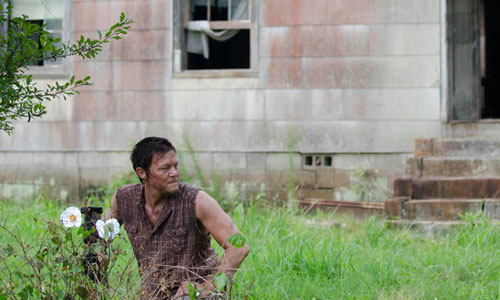 After a funeral for Otis, which causes Shane all sorts of anguish, we get the feeling that the majority of the episode is going to be spent searching for Sophia, but Doc Hershel quickly vetoes Shane and Rick from going. That just leaves Daryl to do his thing on his own, which he seems pretty happy about. And, for once, the search for Sophia seems at least partially fruitful, as Daryl uncovers evidence of the young girl squatting in an abandoned hunting cabin. Coincidentally, this is also where he finds the titular Cherokee Rose, a flower he brings back to Carol with a story about it springing up on the trail of tears to give mothers strength.
I'm really happy we don't spend too much of Cherokee Rose hunting for Sophia. I think the show milked that plot for all it was worth two weeks ago, and I'm simply not all that invested in it any longer.
We also get a nice moment at the shooting range with Shane talking to Andrea about how hard it is shooting an actual person, as opposed to a paper target. It's quite a nice speech, and an interesting way to show us how the character is working through his decision to sacrifice Otis. The way he's starting to justify it is interesting, and opens a few doors for his character down the road.
The other dramatic part of the episode were the conversations between Rick and Hershel, starting with when the latter says "We don't normally take in strangers. I can't have your people thinking this is permanent." The show doesn't put too big a moment on this, but it feels very important. Hershel's farm is the safest place they've been to date. There are people there, supplies, and even electricity. Leaving that to go back out into the undead world might just shatter the group.
After another heart to heart later in the episode, Rick asks Hershel if he won't reconsider his decision. Hershel is very careful about his response, promising only to think about it, provided Rick and his group follow Hershel's rules. Speaking of which, one of those rules is that – outside of a single guard with a rifle – no one is to carry a firearm on his property. I got all sorts of foreshadowing alarms going off when I heard that one, but we shall see.
Outside the normal drama, Cherokee Rose actually gave us a couple pretty light moments. The first of which involved most of the group trying to extricate a waterlogged zombie from one of the farm's wells. After several failed attempts, one of which involved Glenn almost getting devoured, the team finally managed to rope the zombie and pull it out. Just as it gets to the edge of the well, the dessicated monster tears in half, spilling gallons of gore and viscera down into the well below. It was a nice gory moment for the fans of blood, and full of black humor for everyone else.
This also dovetailed into a scene with Glenn and Maggie going into the local pharmacy to raid some supplies, including a special request from Lori (more on that in a bit). The trip into the small town is unusually quiet, but gives Glenn and Maggie a bit of time to feel each other out, quite literally, at the end there. I'm pretty happy about the way their relationship is developing. It's close enough to the comic to work well, but I like that it veers away from the whiny Glenn we got in the book.
And that special request for Lori? Pregnancy test. I think a lot of us, and not just the ones who read the book, were seeing this coming. I'm really glad that we got the reveal on the test at the end of the episode instead of treating it like a cliffhanger. Lori's being pregnant can make things quite interesting. For one, they're sure not going to want to lose site of Hershel, so paying heed to his rules just became all the more important.
Cherokee Rose was another solid episode. I feel like The Walking Dead is finally starting to find its legs, and I'm really excited to see where it goes from here.
Grade: B