This is what The Walking Dead should be doing every week. A good balance of action, creeps, and a little bit of character drama (even if The Walking Dead isn't very good at that last one just yet). Let's start with the character drama since that's the least developed, and consequently least interesting. We get two flavors to choose from this week, both life affirming.
First, we have Lori considering whether Carl isn't better off dead. After all, in a world of the living dead, what does one really have to look forward to beyond a life of constant peril and pain? I think it's a little early in the series run to go to this sort of conflict, but the show handles it pretty well. Rick, weak from giving so much blood, tries to reason with Lori, but doesn't have a lot to work with, at least until Carl suddenly wakes up and starts talking about the deer he saw before getting shot. In Rick's mind, that deer represents life, beauty, and a reason to live. When it comes time to decide whether to risk an operation or let Carl fade away, Lori ultimately decides life. On a show with better developed characters this would be a pretty powerful moment, but here it doesn't feel quite earned yet.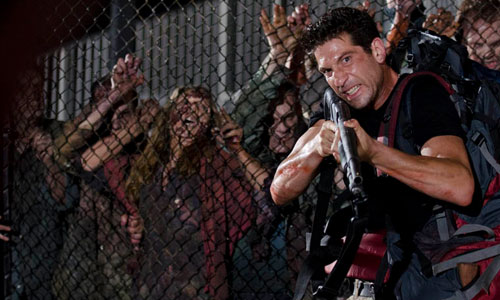 Back in the other group we get some Daryl and Andrea bonding time. While the two search the woods at night for the missing Sophia, they come across a man who had hanged himself, only to have everything from the waist down eaten off by zeds before turning into one himself.  Andrea, looking at him, decides maybe she's not so sure about dying after all, but then again, she's not entirely sold on wanting to live either. Her existential drama is starting to get a little old, so I hope the show doesn't return to the well too many more times.
Of course, Andrea's moment did give us a nice scene a little later, when Dale returned her gun and apologized for making the life v. death decision for her. It was a strange scene, using a lot of language I'm used to hearing in the abortion debate, but I thought it worked. Speaking of abortions, between this scene and Lori's decided whether Carl should live, there was a really abstract abortion theme going on last night.
Okay, so character drama out of the way, let's sink our teeth into the zombie action, which continued to revolve entirely around Shane and Otis as they tried to escape from the high school. The post credit sequence of the two characters running while Rick talked was one of the most well presented on the show. It felt like the episode's big moment, but that was yet to come. Following this, the characters separated in the gym to re-unite outside. They waste a lot of ammo in the process, but both get away without getting bitten, although Shane manages to hurt his leg pretty badly.
There's a lot of running and gunning, and a lot of zombies get taken out. It's well shot, and the low light adds to the creepiness factor. The only thing that bugs me is how little damage Shane's shotgun is doing. I don't like being that guy, but a twelve gauge round is going to do a lot more noticable damage than what we saw last night.
At any rare, with Shane limping, Otis completely out of shape, and both characters almost out of ammo, we get the setup for the biggest twist of the series to date. The horde of zombies is closing in fast, and our heroes are down to one round each. It looks like there's no escape, and those last rounds will be used only to ease the agony of passing, hence the episode title. And then Shane does something that shocked me (even though I half-jokingly predicted it a few minutes earlier): he shoots Otis in the leg, grabs the supplies, and limps away while the wounded man is noisily devoured. The worst part is, he doesn't even get away clean. Taking Otis' supplies turns into a nasty, brutal fight with the zombies closing in quickly.
There's a lot of build up to the big reveal, which I thought was quite well done. The show jumps back and forth between Shane back at the farmhouse and he and Otis at the school. We see Shane struggling with his decision, and seeing the repercussions (Carl lives, but Otis' wife/girlfriend is devestates) before we ever know what's going on. It's quite an effective setup that telegraphs some darkness without tipping its hand too much. It was also technically quite nicely put together, with a couple really great transitions thrown in for good measure.
Save the Last One was a fantastic episode; maybe the best since the show's outstanding pilot. If The Walking Dead can keep doing this, then it's got a chance at becoming a legitimately great show, instead of merely a decent one that gets a nice bump for featuring zombies.
Grade: A-