After a good deal of zombie action last week, we slow down quite a bit for Bloodletting. That's not to say there wasn't tension this time around, it's just that it was primarily focused around Carl's gunshot wound.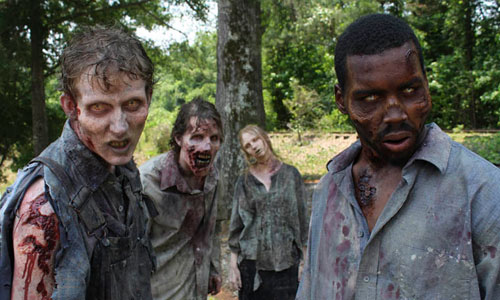 But before we get any of that, the show gives us another flashback cold open. This time it begins with Lori and an unnamed girlfriend talking through Lori and Rick's fight, which mirrors Rick and Shane's conversation in the patrol car in the series premier.  I'm not sure what to think of this scene, really. It's there to show a bit of parallelism, both between the two conversations about the fight and for Carl and Rick's reaction's to the news that the other had been shot. Structurally it makes sense, but I don't think it added much to the story. We do get more about Lori and the state of her and Rick's marriage, but that feels like territory we already charted pretty thoroughly.
Thankfully we jump back to the present after the credits finish, with a desperate race to get Carl to medical help. This is where we first meet Otis, the hunter who accidentally shot Carl (you have to watch what's behind the target too, fellas). As a reader of the comic, the casting here was quite interesting to me. In the comic, Otis is scrawny, red headed, and kind of racist; you get the sense that he's got some sort of significant inferiority complex. The show's Otis is quite a change: husky, seemingly good-natured, and surprisingly smart and capable once he gets going.
The casting issue is something I'm really going to have to get used to. While I can definitely see the comic version of Shane, Lori, Morgan, Dale, and Glen in the show's actors, I have a lot harder time with a few of the other characters, most notable Rick. This is a trend that's likely to continue as the show adds to its cast. In fact, I was also a little taken back by Hershel, the doctor/vet attending to Carl. This is the nature of adaptation, I suppose.
Back to last night's episode.
Most of the drama focused around treating Carl, and Rick's reaction to it. I understand the character was panicked, and I thought the actor did a good job conveying that for the most part, but it still felt like we were reverting back to clichés and awful lot. When Rick yelled "You're killing him!", I almost laughed. Luckily those moments were few and far between, and I have to admit there were moments during the surgery that were really tough to watch.
Back in the woods, the group makes there way back to the camper while looking for signs of Sophia. They start wasting time, feeling sorry for each other and the like, but Darryl quickly puts everyone back on track and they get moving. It continues to amaze me how much Darryl has developed as a character. When he was introduced he seemed like a walking stereotype with little to no range, but he's quickly turned into the show's breakout character. We need more Darryl.
At the thirty-seven minute mark (with commercials), we finally see our first zombie. Andrea is attacked, completely loses it, and looks like a goner. Out of nowhere a woman on horseback (I think it's Maggie) rides up and administers a heaping quantity of baseball bat to the zed's head. And it's just awesome.
Back at the RV we discover T Dog, whose name is apparently Theodore Duggs, managed to get blood poisoning when he cut himself to the artery on a jagged piece of rusty metal. Deliriously, he talks with Dale about how they should leave, since it's only a matter of time before he gets lynched. It's another bizarre scene. I didn't like the sudden injection of racism, which recalled some of the show's weaker moments with Meryl, but I was pleasantly surprised the T Dog realizes he's the weakest of the bunch. This could make for some interesting simmering tension as the show continues.
Bloodletting ends with Shane and Otis going into town to raid a FEMA medical trailer for surgical supplies. They quietly sneak up on a sizable horde of zombies, distract them with some road flares, and make it into the trailer completely unnoticed. It was quite a nice scene where the characters showed some solid thinking.
And then it went right to hell.
Distracting the zombies with the flares was a great idea, but what exactly was Shane and Otis' exit strategy here? They walk out of the trailer and are immediately spotted and pursued by the horde, finally ending up at what appears to be a high school. I'm all for ending the show on a cliffhanger, but it's pretty ridiculous to show the characters being competent at the beginning of a scene, and completely clueless at the end.
So where do we go from here? Surely Shane and Otis escape and bring back the equipment to save Carl's life. But what about Sophia and the rest of the crew? It's been two days now, and there's been no sign of her. Is The Walking Dead bold enough to kill off one of the children this quickly in it's run? We'll see.
Grade: C+