The Walking Dead opens with action: two police officers trying to stop an escaped convict. After trading bullets, one officer, Rick Grimes, is hit and critically wounded. He wakes from a coma an indeterminate time later, and the world has, quite literally, gone to hell. Shooting the main character and putting him in a coma is a heck of a way to start a series, but it gets us hip deep in zombie action without getting bogged down with how civilization is falling apart. It also gives us a nice audience surrogate who gets to experience the horrible new world of the undead with the same fresh eyes as us. The Walking Dead isn't the first to use this trick; it also showed up in 28 Days Later and The Day of the Triffids.
Robert Kirkman, the man behind The Walking Dead, said that he came up with the series after becoming frustrated with zombie movies that all had the same flaw: they end. In The Walking Dead, the story just keeps going. It's a pretty great premise, and gives Kirkman a lot of latitude to explore different ideas and hold zombie movie conventions up to the light to see what works and what doesn't. And because this is a zombie story, he has a lot of freedom with the cast. People die, people join the group, and life in the undead world goes on.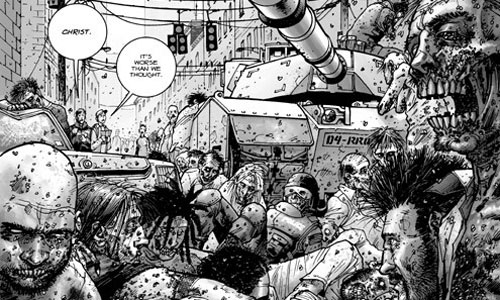 Actually, let's explore that a bit more. I say "people die" because a high level of attrition is a staple of zombie movies. You have to whittle down the cast until there are only a few left at the end. But that can't work in a comic with a continuing story, right? Well, it kind of does. One thing I respect about Kirkman is that he never shies away from offing a character. If someone puts themselves in harm's way, or if they lose the will to do anything to survive, they're just not going to last long. Kirkman's not afraid to take this to dark places (sometimes a little too dark for my taste, but that's a story for later reviews), which is generally appropriate given the genre.
With that in mind, the long format allows us to get to know some of the the characters more than we would in a film, so their deaths become all the more poignant. Sure, there are some characters who get killed without a whole lot of time on the scene, but you have to expect a bit of cannon fodder in stories like this. A bigger issue is that some of the characters are pretty archetypical. Rick, for instance, is a stock reluctant leader with an overdeveloped sense of duty. He really doesn't have a whole lot of depth, although he gets a little more as the series develops. Thankfully other characters, like Tyrese and Andrea, are a bit more nuanced.
One thing The Walking Dead likes to do, especially in the beginning episodes, is experiment with conventions of the genre. What happens, for instance, when you cut off a zombie's head? According to Kirkman, the head remains zombified and is potentially still dangerous.
Perhaps the more interesting place The Walking Dead goes with the genre is experimenting with ways to camouflage and blend in with a horde of zombies. Early in the story Rick and Glenn venture into the city in search of some guns. Unfortunately, the city is just jam packed with zeds, so they stumble upon an ingenious yet disgusting notion: cover themselves with gore and viscera to confuse the zombies. The fun part is that it seems to work pretty well, at least until a sudden rain storm blows in.
Book One collects the first twelve episodes of the comic, or the first two trade paperbacks (Days Gone Bye and Miles Behind Us). This is significant because, after the sixth issue, the series switched artists from Tony Moore to Charlie Adlard. Where Moore is cleaner and more detailed, Adlard has a much darker and chaotic style. I like both artists, but the transition between the two is a bit jarring.
Kirkman is an interesting writer in that he tells a compelling story but gets bogged down with rote dialog. All too often characters serve as exposition machines, or simply robotically recite their thoughts and feelings. I'm not a comic book person, so I don't know if this is a staple of the medium, but it's definitely an area that could be improved upon.
In addition to the comic itself, the book offers some special features. These include sketches, cover art, a letter from Kirkman, and a short comic that about Morgan and Duane's Christmas. I particularly enjoyed the sketches and bonus comic.
So is The Walking Dead worth getting into? I sure think so. While it has its share of flaws, it's also a rich, often unpredictable story told by a guy who's really passionate about the genre. You may not like every character or plot arc, but taken as a whole The Walking Dead is a solid entry into the zombie canon.
Grade: B