Wicked Little Things is the story of a recently widowed mother of two, who apparently has lost her family home, but was left a different home in the will of her recently deceased husband. Coincidentally, nobody seemed to know he even owned it.  The mother, sarcastic teenager, and angelic little girl (who you know something horrible will happen to soon enough) find their new home in the mountains of an old mining town;  it's a desolate looking estate-style home, complete with a lack of natural light and electricity.  Why they are seeing this place for the first time or why it wasn't sold to pay for the mortgage of the old house is never explained.
The old mining town they now call home has a dark history. Back in the early 1900's the owner of the mines would use children to reach small places to set dynamite in the mine shafts.   One day, in a rush to meet a deadline, the foreman seemingly cannot wait the few moments it would take for the children to come back from where they just laid the dynamite. The explosives are set off, killing all the children.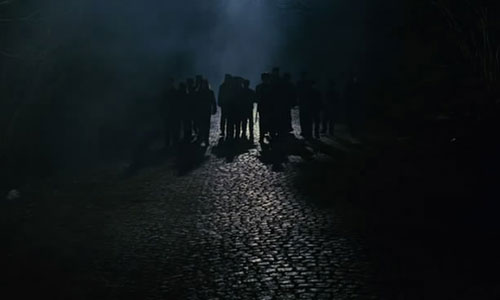 This was not the last the town of Carlton was to see of those children. They would continue to haunt Carlton as a cross between zombies and something like a ghost.  Coincidentally enough, this group of waist high terrors house themselves close to the town's new family. Now that everything is laid out, we figure out that the basic plot of the story is that this gaggle of undead grade-schoolers spend eternity seeking revenge.
Using children in horror movies as the antagonist is tired, uncreative, cliché, and needs to stop being used unless there is critical reasoning. It's a lazy and failed tactic to compensate for a poorly created story that sits on a shelf next to some of the other overused crutches in modern horror story telling. Have you noticed how often its popping up in video games now? You can just picture the writer sitting at a computer stumped not being able to think of something that will disturb the audience so he uses children since you know seeing a kid as a monster tearing people up is super creepy.  That holds true, but we have seen it done so many times now.  Here's a tip for everyone going forward: the moment you're watching a movie that uses little kids as a creature, brace yourself for the handfuls of dried up monkey shit that will be thrown at you.  That's not to say you can't use kids in a story. That's not my point at all as there are of course examples of it being used with tactical brilliance such as Let the Right One In (Chloë  Moretz plays the little girl in this movie also plays the girl the American version of this Let Me In), The Ring, and The Shining, but those are few and very far between. My point is, if you only use children it because it fits a seemingly "shocking" cast type, don't do it.  Just like using priests in any given 90's horror movie, its been done so much that it's desensitized the audience to the point of causing viewers to sigh, laugh or even worse, stop paying attention.
The most frustrating aspect of Wicked Little Things is that the movie screams potential. A lot of elements are in the right place to be successful. The camera work is very well done, and the quality of how the movie looks is nothing short of professional. While it is indeed a small budget movie, I am not sure there is anything you can point at to say "money would have made this better." There is not much wrong with the idea of the movie as the general premise of the movie is very original and interesting. Modern day mining is a brutal and harsh life but mining in history is nothing short of inhuman. The treatment of workers who are now undead and seeking revenge against those that wronged them is a great setting for a horror movie . Casting and acting seemed ok to me, so everything does seem to come down to issues with directing and the script.  Between dialogue to how the story lines played out, it just seems like it was very rushed as if little effort was put it into making it unique or scary.
Sadly, even with all that said when we look at the realm of zombie movies, it is still better than most.  If you happen to come across Wicked Little Things it's worth an hour and a half of your time but as we have all grown accustomed to, keep your expectations low.
Grade: C –