"This is how the world ends: not with a bang, not with a whimper, but a SLAUGHTER. This is the story of the soldiers who fought to save it"
Take well armed unit of the US Military, a zombie outbreak, and throw them together in the middle of a crowded city capable of producing unlimited hoards, and you have the setting for Tooth and Nail.
Unlike in movies, it seems like the literary realm is oddly lacking in organized military versus the undead type. Reading this was a bit of a surprise and fairly significant change from the civilian survivor angle that I have come to expect when I pick up a new zombie book. To be honest I am not really into action books, as I think the action scenes tend to be poorly written, overly long, and get dull real fast. But that didn't happen here as Craig DiLouie served up a plate full of zombapocolypse awesomeness.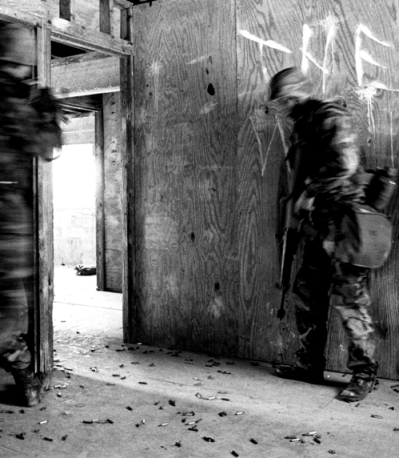 Tooth and Nail wastes absolutely no time by dropping you into the middle of chaos as a military unit diverted  from a tour in Iraq finds themselves trying to contain New York City during the initial stages of a virus outbreak initially called the "Hong Kong Lyssa Virus." The situation quickly goes from chaos to outright pandemonium as every hospital and group of first responders are the first to feel the effects of the Lyssa Virus as it evolves into something far worse, changing people into hoards of viscous killers – what this military unit will later call "Mad Dogs." Zombie purists will likely raise an eyebrow here as the zombies in this book relate more to those found in 28 Days Later than Dawn of the Dead. Personally I don't care what type of zombies a story has as long as it's a good tale, although I did once read a book where a zombie drove a car. I immediately stopped reading it. Suspension of disbelief only goes so far.
It doesn't take too long when reading this book to realize Craig did an amazing amount of research for this book as it is technically sound from a military standpoint. Everything from the acronyms to soldiers cleaning their guns during down time rings true. Thankfully this never bogged down story by getting too technical like a tedious Tom Clancy book can. There was a grand effort to make this book as realistic and believable as possible which shows in its quality and attention to detail. The intention of this book was to theorize through a story what would really happen should an outbreak occur in a crowded city and I am not sure I can disagree with any of it.
While a story-driven tale, the book still had plenty of character development, which is something I must have to enjoy a good novel. Because of this, I found myself caring and cringing at what happened to various characters through the story as they made their way across the city. What made it so fascinating about this military unit is that it was a normal unit. These weren't gung ho Special Forces types, which added to the human element and allowed the reader to still connect with the characters despite their being soldiers. These were normal people who happened to be in the military. They still felt fear but had the active military training and experience in Iraq to help them get the job done.
Tooth and Nail is an absolute page turner that never slows downs and lets you catch your breath. It maintains a high quality level of writing that leaves you being unable to predict what happens next. Craig is also the type of author who has no problem killing off a character, which adds a level of credibility to the story. I cannot recommend this book enough and I find it a great start for anyone who has yet to read zombipocolypse book. While reading other reviews, I noticed some people had negative opinions about the ending. I found it very satisfying as this is a stand alone book. There will be no prequel or sequels so it is its own story from start to finish.
Grade: B+
Tooth and Nail is published by Permuted Press, a industry leader in zombie and post-apocalyptic literature.